'Pink Peignoir' Awakens the Azalea Garden
Posted in Horticulture on April 11 2014, by Kristin Schleiter
Kristin Schleiter is the NYBG's Associate Vice President of Outdoor Gardens and Senior Curator. She oversees the wonderful gardening team that keeps our flowering gardens looking topnotch, curates the herbaceous gardens and collections, and manages the curator of woody plants. She lives and gardens in Fairfield, CT.
---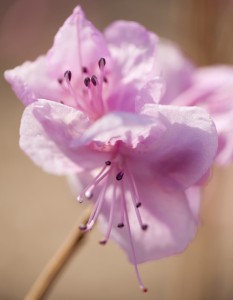 At very long last, spring has well and truly come to the Azalea Garden. I can tell because the Korean rhododendron, Rhododendron mucronulatum, is decorating the ridge at the top of the garden near the overlook with its delicious candy colors. My favorite is the earliest-to-bloom 'Pink Peignoir' in a shade of cotton candy pink that sings against our often drizzly grey skies and is cheerily visible from a long distance.
Korean rhododendron make marvelous garden plants. They prefer an acid soil (which is what most soil in the tri-state area is naturally) and at least a half a day of good light. They are hardy down to a chilly zone 4. They are deciduous and lose their leaves with a late and lasting foliage show of simmering orange, gold, and scarlet.

I so love the spring when the gardens are all full of promise and you feel that this will be the season that everything grows just as you see in your mind's eye. The Korean rhododendron is the perfect plant to keep that hope alive, at least until a late frost shows you that you might have to wait until next year for your horticultural utopia.