An Insider's Look at The New York Flower Market
Posted in Adult Education on May 29 2014, by Plant Talk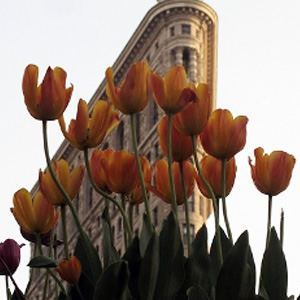 My mission—and I chose to accept it—was to audit Trish O'Sullivan's "Shopping the New York Flower Market" class in Manhattan. This four-hour insiders' tour offers a priceless introduction to the business side of floral design and teaches students where to shop for flowers, vases, and related accessories, like ribbons, wire, and event supplies.
The district is more than a century old, and occupies one city block on 28th Street, between 6th and 7th Avenues. It's inarguably the best place in the region to purchase bulk flowers and floral design supplies. Most shops open early—around 5:30 a.m.—and close in the mid-afternoon, if not before lunch. Many sell their goods strictly wholesale, although plenty of shops also sell to individuals. The New York Times once called the district "Midtown's Lush Passage," which, as the class learned, is an adequate description of an area featuring sidewalks lined with potted plants, flowering tree branches, and buckets of cut botanicals.

It was a cool, rainy Tuesday morning when I arrived at the coffee shop where the class would begin their journey into the heart of New York's flower district. By chance, I chose a seat next to a group of women who were in the class and who'd taken a few Floral Design classes together. There was a sense of camaraderie and friendship among them, as they chatted about their experience in the Certificate program, their favorite classes and instructors, and what they were hoping to get out of the class.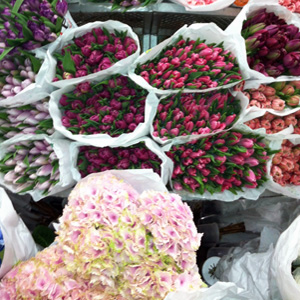 Instructor Trish O'Sullivan arrived and beckoned her class to her. "Hello, Designers!" she practically sang, and we students flocked over. Trish gave an overview of where we'd be going, and then gave what would become the most important, most repeated advice: "Get a contact." Floral Design is all about networking, I learned, and having contacts you trust means getting the perfect flowers you need for your design. Getting the right flowers means you have happy clients who call you again the next time they need a truly special arrangement.
We followed Trish's animal print fedora as it bobbed out of the coffee shop and down the street. Trish is professional and no-nonsense, and she has an anecdote for every question her students ask her. You get the impression she knows what to do in every Floral Design situation. And she does. As a top New York City designer, long-time NYBG instructor and program coordinator, and an alumna of the Floral Design Certificate program, Trish is an authority on all things floral.
Our first stop was Dutch Flower Line, which looked like what I'd expect Holland to be like. The floor is covered in palettes of flowers, including a seemingly vast array of tulips in every color. I'm in awe over the little green leafy puffs (a Dianthus variety aptly named 'Green Trick') in one bucket, while the students, with more seasoned knowledge of flowers, talk about the peonies' elegance and lushness. Dutch, Trish says, offers flowers at a slightly higher price than other stores, but the reason is in the blooms—they're large and delicious looking, with deep, rich colors.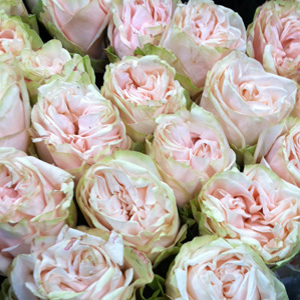 When we reach Associated Cut Flower Company, we realize nothing in the first two shops we've visited has had a price tag. Usually when things don't have a price tag, this means they're out of budget. However, that's not the case with flowers. In fact, we found a beautiful new rose hybrid, called Wedding Bride, which resembles a peony, but would be in season longer than their doppelganger, for the low price of $22.50 for a dozen. Learning the price requires interaction with the sales staff, so shoppers can't be shy. Jahan Shadoo, Trish's contact at Associated, introduced us to a few more blooms before advising, "Treat them like a baby, and appreciate them for what they are." He added later, "In this business, you never stop learning." Trish nodded in agreement.
The Flower Market isn't all about fresh cut flowers, though. Wholesale shops, like Lasting Art, boast immense quantities of specialty wire, ribbon, and other trimmings, plus silk flowers you're convinced are the real thing until you touch them. Trish pointed out that designers just starting in the industry should hang on to their money before going on any shopping sprees for anything but fresh flowers.
"Your money is better in your pocket than in stock, because it could all go out of style," she advised.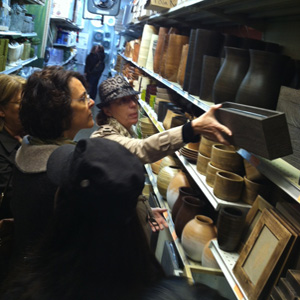 It was the perfect segue to a visit to Jamali Floral & Garden Supplies, where they specialize in stock—like planters, statuaries, and other décor items—and silks. The two-level store was stuffed with a variety of vases, including some made of natural fibers like bamboo, mangowood, and mahogany, plus other kitschy décor items, like the blue disco ball Trish pulled off the shelf.
"You just never know what you'll find here," she said, before pointing out that someone just might request something like this for a party or other fun, themed event.
After only four hours of shopping the New York Flower Market, every one of us had a new appreciation for buying supplies for floral design. Our heads were full of new information; our arms were full of purchases we'd made.
And with a nod of her fedora, Trish dismissed the group back out into the misty city.
 "Shopping the New York Flower Market" is a required course for the Floral Design Certificate program at the Garden.
 The class is also a component of the Floral Design Summer Intensive, a five-week comprehensive education in which students complete 100% of the required classroom hours for the Certificate, leaving only an internship to complete the Certificate. The Summer Intensive starts July 14, and registrations are now being accepted. Click here to learn more about the Intensive.