Fox Tails Flourish Along the Seasonal Walk
Posted in Horticulture on May 23 2014, by Kristin Schleiter
Kristin Schleiter is the NYBG's Associate Vice President of Outdoor Gardens and Senior Curator. She oversees the wonderful gardening team that keeps our flowering gardens looking top notch, curates the herbaceous gardens and collections, and manages the curator of woody plants. She lives and gardens in Fairfield, CT.
---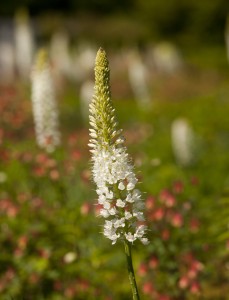 One of my favorite plants on our new Seasonal Walk so far is the Himalayan fox tail lily, Eremerus himalaicus. Re-designed by renowned designer Piet Oudolf and planted late last fall, it has been a thrill to watch the garden unfold. After a very cold winter filled with lots of nail-biting, the plants have emerged healthy, happy, and simply glorious. As all the best gardens do, this one changes magically from week to week. The leading characters now are our native columbine Aquilegia canadensis (complete with hummingbirds darting around enjoying the red and yellow flowers) and the magical Himalayan fox tail lily. Elegant spires of white star-shaped flowers dance gracefully down the length of the double border. They are four feet tall this year, but hold the promise of more height in years to come as they settle in.
Fox tail lilies are easy to plant. Their tubers look much like a sea star with a whole mess of legs wearing a dunce cap. Dig a hole wide enough to spread out their roots but not too deep—their noses should be just a few inches underground. They don't enjoy wet soil and love the sun.
The Seasonal Walk is only just beginning to seduce with its tapestry of plants. I love the fox tail lilies now, but I'm sure there is something else that will start blooming next month that will steal my fickle heart.