Wild for Columbines
Posted in Horticulture on May 16 2014, by Michael Hagen
Michael Hagen is the NYBG's Curator of the Native Plant Garden and the Rock Garden. He previously served as Staff Horticulturist for Stonecrop Gardens in Cold Spring, NY and Garden Manager at Rocky Hills, in Mt. Kisco, a preservation project of the Garden Conservancy.
---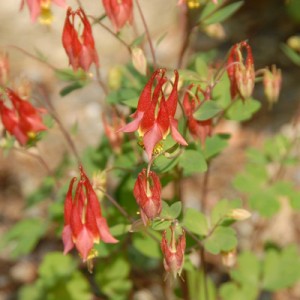 Asking a curator to pick a favorite plant is akin to asking a parent to tell you their favorite child—surely an impossible choice. Nevertheless, there are moments when, with plants and children alike, they do something that gladdens the heart and captures otherwise divided affections.
Such a moment is upon us in the Native Plant Garden. A visit this week will reward with the sight of spectacular drifts of the native wild columbine (Aquilegia canadensis). Their delightfully fine-textured, almost fern-like foliage is a perfect backdrop to the sprays of delicate, red-spurred flowers, with just a light flush of yellow on the petals and a cluster of exerted yellow stamens. A not insignificant bonus is that they are pollinated by Ruby-throated Hummingbirds, and this generous display is sure to offer a welcome sight to any migrating birds that make their way through the garden.

You will also find two beautiful yellow columbines in the Native Plant Garden. A soft, primrose-yellow selection of wild columbine named 'Corbett' provides an enchanting combination at the entrance when joined by white crested iris (Iris cristata 'Alba'). There is also a smattering of an elegant, long-spurred western species to be seen; Golden Columbine (Aguilegia chrysantha 'Golden Queen') can be found in The Glade on the far side of the pond.