Invasive Species: What's in Your Neighborhood?
Posted in Gardening Tips on July 7 2014, by Jessica Schuler
By Jen Stengle (Cornell Cooperative Extension, Putnam County), Linda Rohleder (New York / New Jersey Trail Conference), and Jessica Schuler (NYBG).
---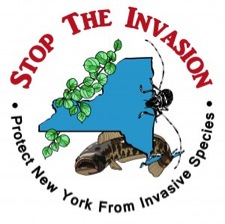 You might have noticed them crawling in your curtains, or buzzing around your house lamps; alarming numbers of brown marmorated stinks bugs settled down for winter this year. These alien invaders are just one of many invasive species that have taken hold in the Hudson Valley. Perhaps you have noticed Japanese stiltgrass (Microstegium vimineum) in a park or have seen viburnums eaten to shreds by Viburnum leaf beetle (Pyrrhalta viburni). These invasive plants and insects are just the ones we see. There are many others we don't notice, clinging to the bottom of boats, hiding beneath the bark of trees, nestled in firewood, or attaching themselves to clothes or shoes—as in the case of seeds.

While some of these invaders seem like they are no more than a nuisance, they impact our quality of life, the cost of our foods, and the health of the ecosystems that we enjoy as part of our natural heritage. Take the example of the brown marmorated stink bug (Halyomorpha halys) buzzing around your lamp. While these insects are an indoor nuisance, once outside they and their young begin to feed on emerging fruits. Our regional apple orchards are prime grazing territory for this insect, costing farmers millions of dollars in extra materials and work, while adding more pesticides to our food, land, and waters. Brown marmorated stinks bugs don't stop at apples, either—they are happy to eat all the same fruits that we do, in our orchards, farms, gardens, vineyards, and woodlands.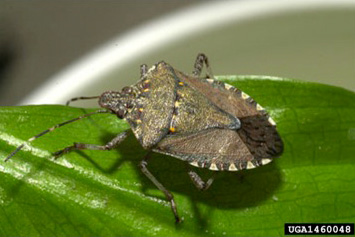 To put some numbers to the impacts of these alien invaders, more than 6,500 non-indigenous species are now established in the United States. The current annual environmental, economic, and health-related costs of invasive species exceed those of all other natural disasters combined. The most widely referenced estimate (Pimental et al. 2005) reports that invasive species cost the United States more than $120 billion in damages every year. In 2011 alone, the Department of the Interior spent $100 million on invasive species prevention, early detection and rapid response, control and management, research, outreach, international cooperation and habitat restoration. This doesn't include State and local costs. Many municipalities, already stretching their budgets, are unprepared when invasive species devastate their trees or clog their waterways.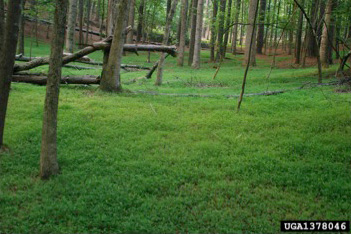 But it's not just the government that has to deal with these impacts. An aquatic invasive plant, Eurasian watermilfoil, (Myriophyllum spicatum) reduced Vermont lakefront property values up to 16 percent and Wisconsin lakefront property values by 13 percent. Homeowners managing brown marmorated stink bugs and Asian multicolored lady beetles have had to take extra steps or hire contractors to caulk openings, replace screens, and seal soffits and fascia boards against these insects. And those backyard gardeners who planted blackberries and raspberries have learned the disappointment of losing their entire crop to a small fruit fly called spotted wing drosophila (Drosophila suzukii).
How do they get here?
Plants and animals have always traveled with us. World travel, Internet commerce, and international trade are among the many pathways that have made it possible for exotic species from all over the globe to find their way to our state. The more we travel, the more goods we import, and the greater the chance that we accidentally transport these hitchhikers. Even our cars, boats, and hiking boots become pathways for invasive species to move.
Sometimes it's accidental: stiltgrass seeds can be trapped in soil on construction equipment or hiking boots. Sometimes it's more intentional: an aggressive plant weeded out of our gardens and thrown on the compost heap. One of New York's newest invasive species, Feral swine (Sus scrofa), either escaped or was released from farms or hunting preserves. Without predators, these destructive and dangerous hogs are becoming established in New York State, tearing up crops and destroying fragile wetlands. Another escapee, Japanese Angelica Tree (Aralia elata), was sold as an ornamental garden plant up until a few years ago. Like many invasive plants, it is quite striking, but this beauty is a beast. It is covered in thorns and displaces native species by forming dense colonies in forest understories.
What Can You Do?
Gardeners: Ask your Nursery or Garden center which plants are native. You can also call your local Cornell Cooperative Extension or contact the Garden's Plant Information Specialists (pltinfo@nybg.org); they can help you select plants suited to your landscape that are either native or that do not show invasive tendencies. Remember, garden centers and nurseries carry what their customers ask for. You can help make the change: if you ask for native plants, growers will be more likely to stock them.
Boaters and Anglers: Clean, Drain Dry & Disinfect. When you leave a body of water, remove any visible mud, plants, fish or animals before transporting your equipment. Be sure to eliminate any water from your hidden areas like bait wells and bilges. Clean and dry anything that comes in contact with water (boats, trailers, equipment, even your dogs).  Never release plants or animals into a body of water unless they came out of that body of water. If you have leftover bait, don't just dump it out in the brush or into the water. New York State maintains a list of approved baitfish species: ask your bait shop what they are carrying.
Hikers, Birders, Outdoor Enthusiasts: Chances are, you're out there to enjoy nature. The last thing you want to do is introduce an invasive species. Clean equipment, boots, and gear between trips and before leaving an infested area. Make sure to remove all seeds and other plant parts. And since you're already out there, learn to recognize and report invasive species. If you'd like to improve your ID skills and learn how to report what you've found, attend one of the many free invasives plant ID classes offered throughout the region.
Citizens: Chances are your municipality will have to pay for invasive species control or removal. Whether it's a bad neighbor like running Bamboo (Phyllostachys sp.) or the sudden loss of trees on town property to Emerald Ash Borer, municipalities often have to foot the bill and pass the burden on to taxpayers. Get involved at the local level to encourage invasive species regulation and preparedness for your town or village. Don't know where to start? See if your county or municipality has an emerald ash borer task force, environmental commission, or a citizen's advisory committee.
Learn, Look, and Lend a Hand: Invasive Species Awareness Week, July 6-12, 2014!
Invasive species affect all New Yorkers—from hikers to highway personnel, from birders to boaters, and farmers to foresters. The first annual NY Invasive Species Awareness Week (ISAW) will provide opportunities for all citizens of New York to participate in invasive species awareness events around the state. Join with local environmental organizations, hiking and trail clubs, and parks for a week of special activities. You can volunteer to help remove invasive species, get out on the trails or on the water to see invasive species firsthand, attend presentations to learn more about what you can to do help fight these threats, and much more.
Find a local event or attend a tour:
Tuesday, July 8, 2:30 p.m. – Native Plant Garden
Wednesday, July 9, 11 a.m. – Native Plant Garden
Thursday, July 10, 2:30 p.m. – Thain Family Forest
Friday, July 11, 11 a.m. – Native Plant Garden
Saturday, July 12, 12:30 p.m. – Thain Family Forest
Saturday, July 12, 2:30 p.m. – Native Plant Garden
Participate in a Member Clean-Up on Thursday, July 10th, 10 a.m. to 12 p.m. All Garden Members are invited to participate. Reservations are required; please call 718.817.8703.
Learn, Look, Report: iMap Invasives Training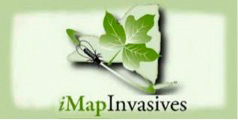 iMapInvasives is an online mapping tool that supports efforts to protect New York State from the threat of invasive species. Learn about the program and become trained to contribute data by attending an iMapInvasives training session! Anyone interested in mapping invasive species locations and management efforts is welcome to attend these free sessions! Contact imapinvasives@nynhp.org with any questions.
Further Reading:
Alternatives to Invasive Plants Guidebook (Free PDF with color photos and descriptions)
New York Invasive Species Clearinghouse
NY/NJ Trail Conference Invasive Species Strike Force