Posted in Horticulture on June 4 2015, by Jessica Schuler
Jessica Arcate-Schuler is NYBG's Director of the Thain Family Forest.
---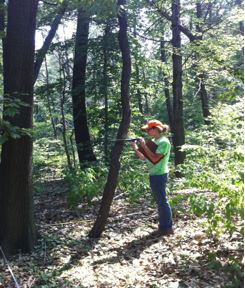 Ecological restoration, or "the process of assisting in the recovery of an ecosystem that has been degraded, damaged, or destroyed" (SER, 2004), is what the Forest staff, interns, and volunteers do in the Thain Family Forest every day to reduce invasive plants and increase native plant regeneration in managed areas through planting.
We start with an inventory that samples nearly 250 plots that are 10 meters by 10 meters squared. The sampling involves measuring all trees and shrubs, living or dead, with one centimeter or greater diameter at breast height (DBH) and collecting percent cover information for all herbaceous plants, woody plant seedlings and saplings, and non-living components such as leaf litter, coarse woody debris, and bare soil. This inventory is repeated every five years and provides a picture of forest change overtime that allows us to prioritize management and guide the restoration process: inventory, establish priorities, manage invasive species, restore native species, and repeat. The Forest staff last carried out an inventory in 2011 and will be repeating this process in the summer of 2016.