"T" is for Thyme
Posted in Gardening Tips on July 15 2014, by Sonia Uyterhoeven
Sonia Uyterhoeven is the NYBG's Gardener for Public Education.
---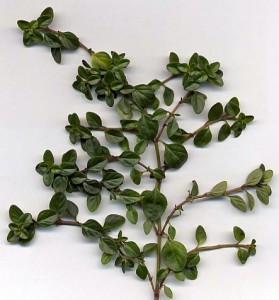 The word "thyme" is derived from two possible Greek sources. One term means "to fumigate"—in ancient Greece, thyme was burnt at temples as incense, owing to its nice balsam odor. The other possible source is an association with courage. This association lasted from ancient Greece through the Middle Ages, when women gave knights gifts embroidered or decorated with thyme to inspire bravery.
These days, thyme—with its aromatic oils–is usually associated with invigoration. It is an asset in any landscape and makes a wonderful woody ground cover or a lawn alternative, as it is now commonly known. The diminutive pale pink or lavender flowers are a magnet for bees and help them to produce a wonderful honey. A large industry exists for extracting the herb's essential oils. These oils are primarily distilled in the South of France, where the arid climate suits the plant's Mediterranean temperament perfectly.
Some varieties of thyme have their place in the kitchen while others are more suited for the landscape. The most popular thyme is English thyme (Thymus vulgaris). English thyme is not native to England—the Romans introduced the herb—but the Brits took it on as their own. It has the strong, distinctive flavor that we most associate with the herb today.

Another good culinary option is French thyme (Thymus vulgaris). French thyme is a variety of English thyme that has narrower, grey-green leaves and a slightly sweeter flavor. It is often preferred by chefs, and is excellent for seasoning meat, fish, soup, and vegetables. Just remember that its English counterpart is not only more robust, but has better cold tolerance.
One of my favorite thymes is lemon thyme (Thymus x citriodorus). Its foliage has a delightful lemony taste and scent. It is one of the best natural insect repellents for the patio and, when dried, keeps moths out of your linens. Golden lemon thyme (Thymus x citriodorus 'Aureus') is a variation of the same theme with variegated golden foliage.
For my part, I prefer to cook with lemon thyme. I have a simple recipe for lemon roasted chicken where I include thyme to improve the flavor. The herb is also a stunning complement to fish, summer fruit salads, or iced tea.
Silver thyme (Thymus vulgaris 'Argenteus') is an upright, shrubby thyme that has grey and cream-colored foliage. Silver lemon thyme (Thymus x citriodorus 'Argenteus') has the same color combination in the foliage, as well as the nice lemon flavor and fragrance of other lemon thymes.
Caraway thyme (Thymus herba-barona) has dark green leaves, pink flowers, and a mild caraway taste. It is good for vegetables, soups, and poultry. The Latin or botanical name comes from a traditional English seasoning for a roast known as "The Baron."
One last favorite is 'Doone Valley' thyme (Thymus 'Doone Valley'). While the other lemon thymes that I mentioned above are upright growers, 'Doone Valley' is a creeping thyme that will run through crevices and cracks in your garden. It has lush green and golden variegated foliage and a beautiful lemony scent.