Clethra on the Cape
Posted in Gardening Tips on August 26 2014, by Sonia Uyterhoeven
Sonia Uyterhoeven is NYBG's Gardener for Public Education.
---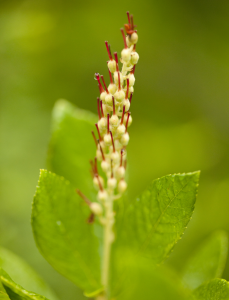 Every year, I travel to Cape Cod for a family vacation. I find it heartening to return to the same location, as there's a comfortable familiarity that cannot be replaced. I know the bike paths, the homemade ice cream store, the quiet beaches, and the customs of the changing tides. We spend a portion of our days riding on the Cape Cod Rail Trail—a bike path that spans from Wellfleet just past the old Marconi telegraphy station down to Dennis. As we ride along the spectacular Cape Cod National Seashore, I admire the local flora, which there seems to be mostly native and exactly where it should be.
I soak in the sights, admiring my beloved beach plum (Prunus maritima) and the much adored bearberry (Arctostaphylos uva-ursi) that grows with such elegance and enthusiasm in its native habitat. As I make my way down the rail trail, one botanical encounter that I have every year in early to mid August is summersweet. I know I'm getting close when I smell that sweet fragrance wafting through the air. It grows in abundance on the side of wet marshes and persists on the edges of shaded woodland paths.

The summersweet that I see on the Cape is the native Clethra alnifolia. It has a broad native range and is indigenous from Maine down to Florida, and across to Texas. It is famous for its late summer fragrance with the blooms starting in mid to late July and extending into August. An adaptable shrub, it happily tolerates the salty seaside, yet it is also perfectly happy in clay soils or shady sites. While summersweet loves to get its feet wet and is ideal for a rain garden, it can also tolerate average soil like a champion.
Along with these amenable credentials, Clethra is deer resistant and attracts butterflies and hummingbirds with its fragrant flowers. Before I left for this year's vacation, I took a spin around NYBG to admire some of our outstanding summersweet cultivars.
In a shady spot up by the Family Garden, we have an upright variety named Clethra alnifolia 'Sherry Sue'—a tall, leggy plant with a wonderful red tinge to her new growth and a pale pink blush to her blooms. She stands 5-7 feet tall and is a wonderful candidate for a fragrant hedge. 'Sherry Sue' is a southern belle that was discovered by one of the owners of Dodd & Dodd Nursery in a park in northwestern Florida. Dodd & Dodd is located in southern Alabama and specializes in native plants and plants that provide for our environment.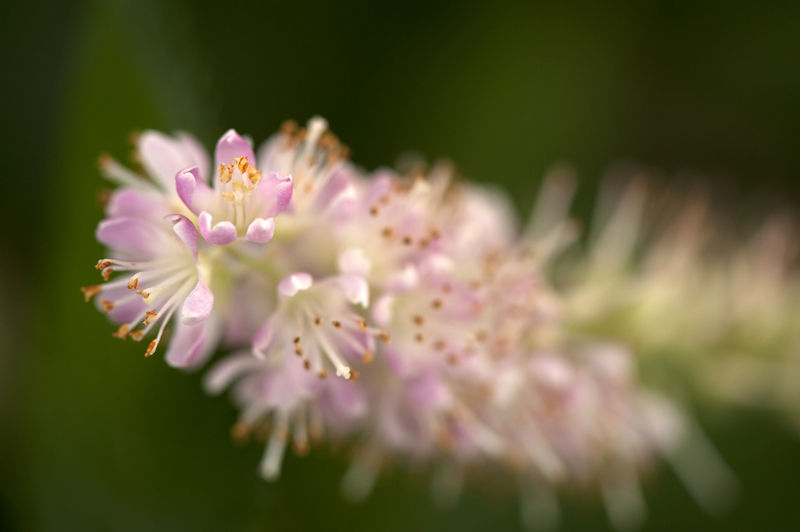 Many of the other cultivars that you find on the market are more compact varieties that are well-suited for foundation plantings, the edge of a patio, or tucked into a perennial border. Make sure you place them in such a way that the wind blows in your favor, allowing you to enjoy summersweet's sumptuous summer fragrance.
In the Home Gardening Center, we have two other wonderful selections: 'Hummingbird' and 'Ruby Spice'. The former is a dwarf selection that reaches 3-4 feet tall and is covered with fragrant white flowers on 2- to 6-inch, bottlebrush-like panicles. Like many summersweet, it has good yellow-gold fall foliage. 'Ruby Spice', as the name suggests, has lovely, deep rose flowers and a spicy floral fragrance. It reaches between 3 and 6 feet tall.
There are several other new varieties on the market these days that are worth investigating. Woody plant guru Michael Dirr came up with a selection that originates from an open-pollinated seedling of 'Hummingbird'. Known as 'Sixteen Candles', it has a dense mounding habit and big blooms. This peewee shrub stands only 20 inches tall and can be tucked into any nook or cranny in your garden.
Other newcomers that are making a big scene are 'Caleb' Vanilla Spice and 'Crystalina' Sugartina. 'Crystallina' is a compact plant with an abundance of fragrant white flowers, and grows 2-3 feet tall and 3-4 feet wide. It provides a cloud of fragrance for your mid- to late-summer garden.
'Caleb', a.k.a. Vanilla Spice, is a larger version of Sugartina. It grows 3-6 feet tall and 3-5 feet wide. It has large flowers that can grow up to double the size of other summersweet plants, and it is definitely something for the curious to try out.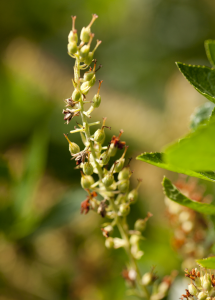 Here at NYBG, Clethra 'September Beauty' is currently in bloom. It grows 4-6 feet tall, making a handsome addition to a partially shady area in our garden where hydrangeas and azaleas thrive. It flowers one month later than the rest of the summersweet cultivars. Parents should think of it as the back-to-school Clethra, as its flowers burst into color and fragrance just as the school buses begin making the rounds for a new semester.
If you like fragrance in your garden, you can't go wrong with summersweet. It gets an "A" for adaptability, delights pollinators looking for a late-season snack, and it's a welcome sight for coastal gardeners and those with an abundance of shade.