This Week at the Greenmarket: Endless 'Pastabilities'
Posted in Programs and Events on September 10 2014, by Andy Garden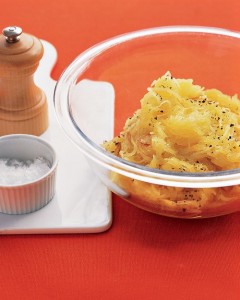 With only two weeks until the official first day of fall, today's Greenmarket looks as delectable as ever. Ginger gold apples, eggplants, spaghetti squashes, and pipicha—an aromatic herb from Mexico that closely resembles tarragon—are all lined up and ready to make your kitchen their new home.
Spaghetti squash is undoubtedly one of the most unique foods you'll come across at the Greenmarket. This melon-shaped winter squash is named for its flesh that looks like translucent strands of thin spaghetti when cooked. Not only is the flavor mild and delicate, but also spaghetti squash is loaded with nutrients and its seeds can be roasted like those of pumpkins. For beginners, just adding garlic can turn a squash into a highly versatile side dish that kids will love!
While your squash is baking, check out the upcoming schedule for future special programs, demos, and Q&As at the Wednesday Greenmarket. GrowNYC's calendar of what's in season will guide you through other varieties of winter squash harvested in fall.

Spaghetti Squash with Garlic
Via Martha Stewart
Ingredients
2 spaghetti squash (2 pounds each)
2 tablespoons olive oil
2 cloves garlic, slivered
Coarse salt and ground pepper
Preparation
Preheat oven to 400 degrees. With a fork, prick squash in several places. Place on a rimmed baking sheet; bake until soft to the touch, about 1 hour.
When cool enough to handle, halve squash crosswise. Scoop out seeds; discard. Scrape flesh into strands.
In a large skillet, heat oil over low heat. Add garlic; cook until fragrant and just starting to color, about 5 minutes. Add squash; season with salt and pepper. Cook, tossing frequently, until squash is very hot, about 5 minutes.
Our weekly cooking demonstrations continue today, and you can find assistance with enrolling in the New York State of HealthMarketplace from 11 a.m. to 1 p.m. The Greenmarket accepts food stamps, EBT, WIC/FMNP, and Senior coupons, in addition to cash and credit or debit cards.