This Week at the Greenmarket: Fight Fire with Fire
Posted in Programs and Events on September 3 2014, by Andy Garden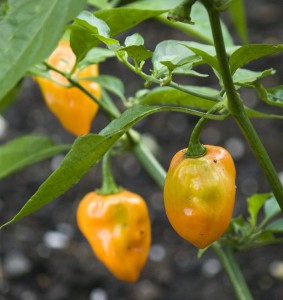 Today's Greenmarket includes a vibrant array of plums situated amongst a hefty selection of butternut squash, Yukon Gold potatoes, spicy peppers, and even apple blueberry crumble pie!
When there's no escaping what feels like summer's hottest week, why not just fight fire with fire? Habanero chilies, with their citrus-like flavor and floral aroma, are an integral part of Yucatecan cuisine. Daunting reputation aside, the habanero's heat mixes nicely with sweet. Try adding a kick to your breakfast these upcoming weeks with some habanero apricot jam.
Be sure to visit the upcoming schedule for future special programs, demos, and Q&As at the Wednesday Greenmarket. GrowNYC's calendar of what's in season will guide you through autumn's freshest fruits and vegetables.

Habanero Apricot Jam
Via Taste of Home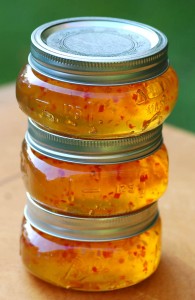 Ingredients
3-1/2 pounds fresh apricots
6 tablespoons bottled lemon juice
2 to 4 habanero peppers, seeded
1 package (1-3/4 ounces) powdered fruit pectin
7 cups sugar
Preparation
Pit and chop apricots; place in a Dutch oven. Stir in lemon juice. Place habaneros in a blender; add a small amount of apricot mixture. Cover and process until smooth. Return to the pan.
Stir in pectin. Bring to a full rolling boil, stirring constantly. Stir in sugar; return to a full rolling boil. Boil for 1 minute, stirring constantly.
Remove from the heat; skim off foam. Carefully ladle hot mixture into hot sterilized half-pint jars, leaving 1/4-in. headspace. Wipe rims and adjust lids. Process for 5 minutes in a boiling-water canner.
For best results, let processed jam stand at room temperature for 2 weeks to set up. Yield: 11 half-pints.
Our weekly cooking demonstrations continue today, and you can find assistance with enrolling in the New York State of Health Marketplace from 11 a.m. to 1 p.m. The Greenmarket accepts food stamps, EBT, WIC/FMNP, and Senior coupons, in addition to cash and credit or debit cards.