As Big as Satellite Dishes
Posted in Gardening Tips on September 2 2014, by Sonia Uyterhoeven
Sonia Uyterhoeven is NYBG's Gardener for Public Education.
---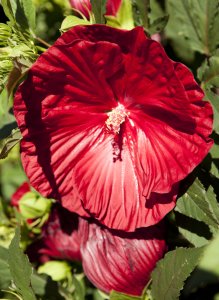 Last week I was on the Diller-von Furstenberg sundeck of The High Line, looking out at the Hudson River. From the sundeck you'll find the closest and least obstructed views of the waterfront. The design of The High Line is broken up into different ecosystems, including a thicket, woodland, grassland, and a wetland area. The sundeck features plants found in marsh and wetland ecosystems. As you relax on the chaise lounges situated around the sundeck, it's as if you are sitting amongst flora on the river's edge.
I was leading an avid group of gardeners from my August Membership tour during this particular visit to The High Line, and we were admiring the rose mallows, of which the site has two different species. One is the swamp rose mallow (Hibiscus moscheutos ssp. palustris). This flower is commonly found growing on riverbanks, in freshwater and brackish marshes, swamps, floodplains, and wet meadows. It's an adaptable native that doesn't mind getting its feet wet, while it's also tolerant of brackish water and deer resistant to boot. Swamp rose mallow has lovely pink flowers and makes a nice, full display on The High Line, tucked in with cattails (Typha laxmannii and Typha minima). It reaches 4-6 feet tall, flowers from July through September, and is hardy from Zones 4 to 9.

Nearby, the Neches River mallow (Hibiscus dasycalyx) is planted. This mallow can be found on the shores of the Neches River that flowers for over 400 miles through the eastern part of Texas. This plant is on the endangered list due not only to the destruction of its native habitat, but also from the encroachment of other mallows (specifically Hibiscus laevis and Hibiscus moscheutos) and the interbreeding of these species. The Neches River mallow grows 4-7 feet tall and has stunning white flowers with red to burgundy centers. It is hardy from Zones 7 to 10 and flowers from June/July into October.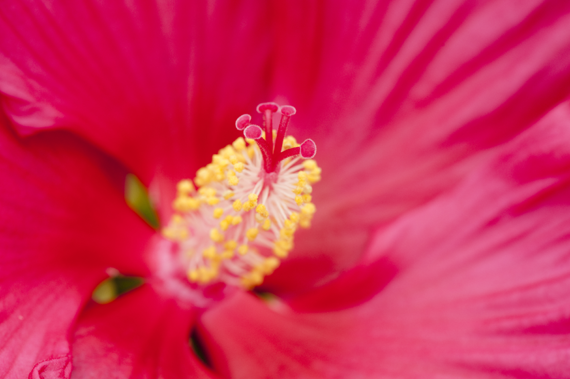 The hardy hibiscus or rose mallows are known for their height and their huge, satellite dish-like flowers. They make a stunning impact in the home garden. To obtain smaller, more compact plants, gardeners used to have to pinch the new growth back when it reached 8 to 12 inches (sometimes pinching twice) to encourage good branching and to reduce its height.
These days, hybridizers are coming to the rescue with many attractive cultivars that usually only grow 3-4 feet tall and play nicely with other perennials in a border. In the Home Gardening Center we have a Trial Bed full of some of the more recent introductions, along with some older stalwarts.
Two of these trial bed regulars are introductions from Walter's Gardens. One is Hibiscus Summerific ™ 'Cranberry Crush'. As the name suggests, it has bright red flowers and grows just 3-4 feet tall and 3-4 feet wide. 'Cranberry Crush' is a cross between Hibiscus moscheutos, H. coccineus, and H. laevis, and makes a floriferous addition to any border. Another introduction from Walter's Gardens is Hibiscus 'Jazzberry Jam'. It reaches 4-5 feet tall and has a profusion of 9-inch, cerise-colored blooms with deep red eyes.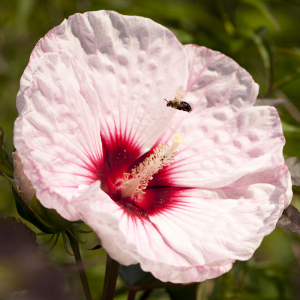 Two introductions from the Fleming brothers in Lincoln, Nebraska, are Hibiscus 'Kopper King' and Hibiscus 'Fantasia'. 'Kopper King' has coppery-red foliage and enormous, 12-inch white flowers with red eyes that bleed throughout the veins in the petals. It also has exceptional flower power and we have it paired with Joe Pye Weed (Eutrochium purpureum) in the Native Plant Garden. 'Fantasia' has 9-inch, ruffled rosy-pink flowers with red eyes. This cross between Hibiscus moscheutos and H. coccineus produces a compact variety that reaches 3-4 feet tall.
If you are interested in a paler pink flower with a nice red eye, we have an introduction from Harold Winters named Hibiscus 'Sweet Caroline'. It is another compact variety that grows 4-5 feet tall. All of these rose mallows are hardy from Zones 4 or 5 through 9, deer resistant, and flower from July until September.
While the natural habitat of the species is wet, these hardy hibiscus thrive in average garden soil—just don't let them dry out in the heat of the summer. They have a habit of coming up late in the spring. I always cut them back a little high in the fall (4-6 inches), so that I know where to find them and don't accidentally slice them with a spade when I'm digging around in the spring.