Gentle Giants in the Garden
Posted in Gardening Tips on September 23 2014, by Sonia Uyterhoeven
Sonia Uyterhoeven is NYBG's Gardener for Public Education.
---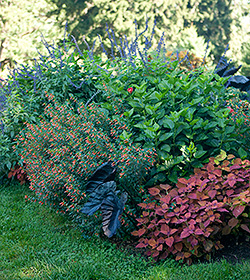 This year we have planted a number of varieties of elephant's ear or taro (Colocasia esculenta) in the Home Gardening Center. Colocasia is sometimes confused with Alocasia macrorrhiza, which is also known as elephant's ear or giant taro, but the two are quite easy to distinguish.
They both have massive foliage that looks—as the name suggests—like an elephant's ear. The most identifiable difference between the two genera is that the foliage on Alocasia points upwards like an arrowhead, while the foliage on Colocasia points downwards to form the shape of a heart.
Earlier this year, I wrote about one of the Colocasia in the Trial Beds in the Home Gardening Center—C. 'Electric Blue Gekko'. Now that the season has progressed, it is easier to make an assessment of the different varieties grown and to pick out favorites.

One variety that I liked from the start is Colocasia esculenta 'Illustris'. It is a fine specimen that lives up to its grand name. It is one of the showier cultivars that we have growing—with green foliage that has large purple-black markings spread between its large green veins. It has an otherworldly, almost prehistoric appeal to it. It also looks like a talented artist tie-dyed its leaves. If you are looking for a high impact tropical plant for your summer border, this is it.
I am drawn to the dark, and another favorite taro in the garden this year was Colocasia 'Diamond Head'. It grows 4 feet tall and produces a dense display of lightly ruffled, glossy, chocolate-black leaves. The foliage is massive, the color deep and luscious, but it is the glossy shine that really makes it stand out. We have it arching over a variegated cassava (Manihot esculenta 'Variegata'). The cassava has large, palmately lobed, bright green leaves that are variegated with a creamy yellow along the midribs. The contrast between the two plants is striking.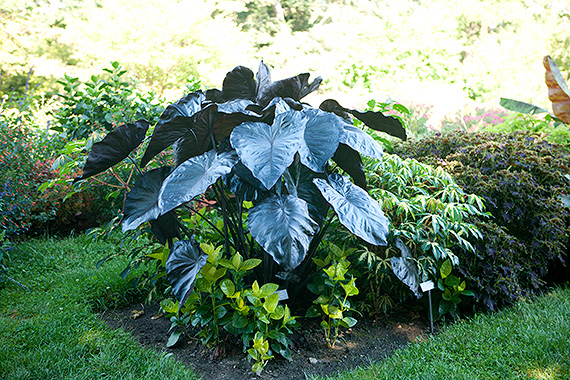 If you are looking for contrast but want something that is slightly more subdued, you should consider the black stem elephant's ear (Colocasia 'Fontanesii'). Unlike the dense habit of 'Diamond Head' it has a graceful, arching demeanor. It has a pitch black stem and large, dark green leaves that often take on the purple-burgundy hues of the sturdy, striking stems. This elephant's ear likes to grow tall and can reach up to 6 feet tall if it is well fed. In our garden it stretches past 5 feet.
If you need something large and bright to lighten up your annual borders, or to add as an exotic touch to your mixed perennial border, then I would recommend Colocasia 'Lemonade'. It reaches just over 4 feet tall and has lovely chartreuse foliage that is bright and cheery without being overwhelming. It has a tendency to spread along short, above-ground rhizomes, so give it a little space to fill out and do its thing.
As far as Colocasia culture is concerned, the most important thing to remember is that these elephant's ear like full sun unless they are grown in very hot climates, and they love water and nutrients. The more you feed it, the larger it will grow. You can situate it by the damp edge of a pond and it will thrive. It does superbly in average garden soil or in a large container as long as you remember to keep it well-watered during the heat of the summer.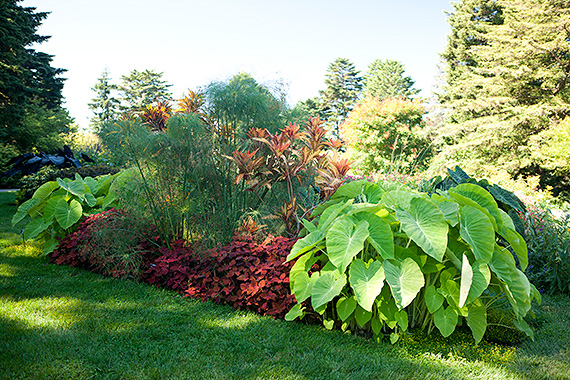 When you plant the corms in the late summer, place them at a depth of 2 to 4 inches below soil. They can be started earlier indoors in a pot and brought out for a late spring planting. The majority of elephant's ear that you will find on the market are hardy to zone 7b. A few, such as Colocasia 'Pink China', are supposed to be hardy to zone 6. If you intend to leave any of your taros outside over the winter, make sure you pile a foot of shredded leaf mulch over the corm to give it added protection.
Most of your elephant's ear or taros will need to be lifted in the winter. You can store the large corms in peat moss over winter in a dry, cool location that stays above freezing. Make sure that the corm is able to breathe—an airtight container will trap moisture and cause it to rot. All in all, they are a hassle-free tropical that will add impact to your garden—they are definitely worth a try.
---
Learn more about Colocasia in Curator's Spotlight.