Posted in Programs and Events on October 31 2014, by Lansing Moore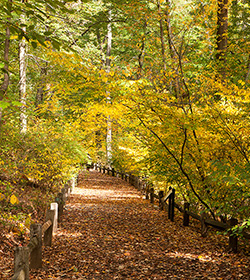 NYBG's trees are at 90% of peak color, jumping from 60% on Wednesday! Our Foliage Tracker has been going haywire this week as leaf season arrives in full force, just in time for the first of our Fall Forest Weekends. Autumn at the NYBG is at its most dazzling right now, and we have a full lineup of exciting activities to complete your experience of the colorful and serene woods. See live birds of prey, watch a master woodcarver at work, and even paddle a canoe down the Bronx River as you admire the Thain Family Forest from the best possible vantage  point. Click through for the full schedule.
Don't forget, The Holiday Train Show® opens for another year in just two weeks—November 15th! Tickets are available now for preferred dates going into the peak season, as well as for Bar Car Nights, so be sure to book as soon as you can for these popular events.