Cucurbit Crafts
Posted in Gardening Tips on October 9 2014, by Sonia Uyterhoeven
Sonia Uyterhoeven is NYBG's Gardener for Public Education.
---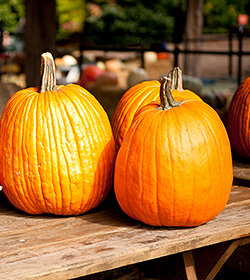 Every year, in celebration of Columbus Day and the advent of autumn, I conduct a Home Gardening Demonstration in the Fall Room of the Jane Watson Irwin Perennial Garden on autumnal centerpieces. Instead of getting my hands dirty, I get my hands gooey by carving exotic looking heirloom pumpkins and creating festive table arrangements.
I stand above the pumpkins with a sharp knife, grasp the stem for stability and start carving open the top. If you are carving a pumpkin with the intention of replacing the lid then you would place the knife at a 45-degree angle. Since I am carving with the intention of inserting a 4-inch square vase inside as a centerpiece holder, I carve straight down at a 90-degree angle. My objective is to create a clean edge and an area that is large enough so I can slip the vase in, leaving a small amount of wiggle room so that I can extract it with ease.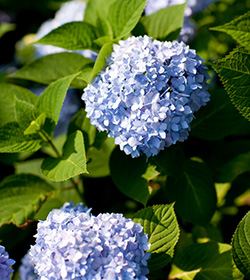 A carved pumpkin can generally last up to a week depending on conditions. It will last longer outside rather than inside since the temperatures are cooler and it will last longer when placed in indirect light as opposed to direct sunlight. There are a few other simple things to help make your pumpkin last longer. First, clean out all of the seeds and the pulp. Seeds are ideal for roasting and the pulp should be discarded. I have a favorite study spoon that I like to use to scrape clean the inside of my pumpkins. Removing the gooey pulp and the moisture that comes with it helps increase the longevity of the cucurbit vase.
Crafters have certain techniques that they apply to make their carved pumpkins last longer. Some soak their pumpkins for a few hours in a mild bleach solution with the ratio of 1 teaspoon of bleach per gallon of water. They let the pumpkin dry and then rub the interior and edges with vegetable oil. This is far too much of a production for me, particularly since I view these centerpieces as an ephemeral treat. Thoroughly cleaning out the seeds and pulp on the other hand is imperative, otherwise they will smell.
Once the pumpkin is carved, the fun begins. If I am feeling lazy or low-maintenance, I place a 4-inch pot with either a seasonal mum, a festive ornamental pepper, or a small wavy sedge into the pumpkin and use the pumpkin as a decorative flower pot. But if the mood strikes me, I sketch a smiling face on the pumpkin and transform the potted plant into its hairpiece.
More often than not, I look for seasonal flowers and foliage to create a colorful centerpiece. My favorite items are hydrangeas, roses, maple leaves, dahlias, and small sunflowers. I soak a piece of floral foam and insert it into the 4-inch vase. Once this is placed in the pumpkin, I am ready to design my centerpiece.
This slideshow requires JavaScript.
Before the flowers are cut, they are conditioned. This means they will last longer in the arrangement. The day before, I cut my flowers at a 45-degree angle, remove any unwanted foliage, and place them in a bucket of lukewarm water. It has been shown that floral preservative can increase the longevity of the flowers by up to 75 percent. You can either buy it or make your own. For a homemade recipe, place one teaspoon of bleach, one teaspoon of sugar, and two teaspoons of lemon juice in one quart of lukewarm water. I then place the flowers in a cool area away from sunlight. I have a walk-in refrigerator at work that is ideal.
When designing a centerpiece arrangement, I always start with the bottom and work my way up. For the first layer, I place foliage and hydrangea blossoms that take up a lot of space and create a nice framework for the arrangement. In each centerpiece, I choose a theme and have colors or flower pairings repeated throughout to give it a cohesive feel. Odd numbers tend to be more pleasing to the eye than even.
If I am feeling whimsical, I will take colorful hot peppers or baby eggplants and insert them into the arrangement on a small bamboo skewer. All that is needed to complete the arrangement is a little imagination and you have a festive arrangement that looks great in your home. Come join me this Columbus Day weekend for a hands-on demonstration in the Perennial Garden at 2 p.m. on Saturday, Sunday, and Monday.