Autumn's Arboreal Bounty at The New York Botanical Garden
Posted in Horticulture on November 17 2014, by Todd Forrest
Todd Forrest is the NYBG's Arthur Ross Vice President for Horticulture and Living Collections. He leads all horticulture programs and activities across the Garden's 250-acre National Historic Landmark landscape, including 50 gardens and plant collections outside and under glass, the old-growth Thain Family Forest, and living exhibitions in the Enid A. Haupt Conservatory.
---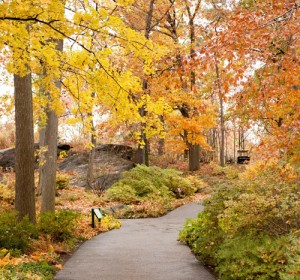 Approximately thirty thousand trees add shade and scale to the Garden, including thousands of mature oaks, maples, sweet-gums, beeches, birches, tulip-trees, black-gums, and other deciduous beauties in the Native Plant Garden, Azalea Garden, and dotted across the hills and dales of our historic landscape. All of these wonderful shade trees make fall at the Garden a heart-breakingly beautiful mosaic of yellow, orange, burgundy, scarlet, and brown, particularly when late October and early November days are bright and nights are crisp but not freezing.
All of these wonderful shade trees also make the annual ritual of fall leaf pick-up a Herculean task for Garden horticulturists, who take up rakes, blowers, mowers, vacuums, and any other tool they can think of and spend the better part of three months each year in an elaborately choreographed leaf gathering and transporting dance across the Garden's 250 acres. If all goes as planned, leaf pick-up begins in early October and is mostly finished before winter's first substantial snowfall.

Following a few simple rules when gathering leaves helps ensure that the work is done quickly and safely with the greatest possible benefit to the health of the landscape. These rules are:
Wherever possible, leave a leaf where it lies. For example, we do not pick up leaves in the Forest, from beneath the azaleas in the Azalea Garden, or in large parts of the Native Plant Garden. The best thing for soil and plant health in these locations is to allow the leaves to decompose naturally so that they return nutrients to the soil, feed soil microorganisms, and conserve soil moisture.
Wherever possible, mulch leaves directly in place. While we don't allow leaves to sit on turf all winter long, we do use mulching blades on our lawn mowers to chop the leaves up. We do this until the leaves become so thick that they cannot be properly mulched using a lawn mower.
Wherever possible, use rakes instead of blowers. In short, leaf blowers are among the most obnoxious of all human inventions. Unfortunately, our landscape is so large that we must use them in order to get our work done. We have upgraded our leaf blowers to the quietest, least-polluting models available and still use old fashioned rakes wherever we can.
Save those leaves!: All told, we gather about one thousand cubic yards of leaves from our landscape each year. These leaves are manna for plants (and gardeners). Garden horticulturists transport all the leaves we collect to the Green Materials Recycling Center, where they are composted and ultimately recycled. These recycled leaves provide essential organic matter for the soil mixes we use to grow all of our plants for Conservatory exhibitions, seasonal displays, and collections and make our rich, dark mulch the envy of every gardener who visits.
While picking up and moving around millions of leaves each year is a gargantuan undertaking, we believe that both the fall color that proceeds the task and the many benefits these leaves provide to all of the Garden's plants make all that work more than worthwhile.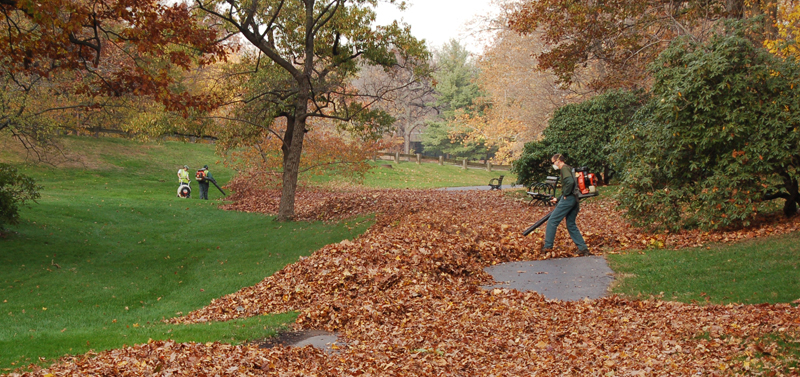 Of course, that's easy for me to write as I sit in my warm, dry office with a view of my colleagues, drowning in fall's bounty.