Posted in Science on January 23 2020, by Todd Forrest
Todd Forrest is the Arthur Ross Vice President for Horticulture and Living Collections at The New York Botanical Garden.
---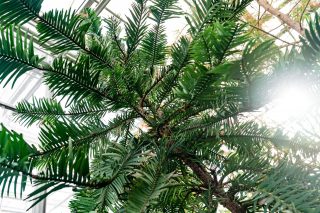 The New York Botanical Garden applauds the courageous efforts of the foresters, conservationists, and firefighters who saved the last remaining wild population of the critically endangered Wollemi pine (Wollemia nobilis) from the devastating fires that have engulfed Australia. The discovery and conservation of Wollemi pine is a fascinating and inspiring story at the confluence of botany, horticulture, and conservation science.
Widespread across Australia at the beginning of the Cenozoic Era (65 million years ago), the Wollemi pine now only grows in small groves hidden in deep ravines in forests northwest of Sydney. Shockingly, these remnant groves were unknown to science until 1994, when David Noble, an observant field officer for the New South Wales National Parks and Wildlife Service, and two colleagues rappelled into a remote ravine in Wollemi National Park and found a population of conifers that they did not recognize. Mr. Noble brought samples back to botanists who realized the trio had discovered a relict population of a conifer thought to have been extinct for millions of years. Wollemi pine is a true living fossil.