Vivacious Violas for Every Gardener
Posted in Horticulture on March 23 2015, by Sonia Uyterhoeven
Sonia Uyterhoeven is NYBG's Gardener for Public Education.
---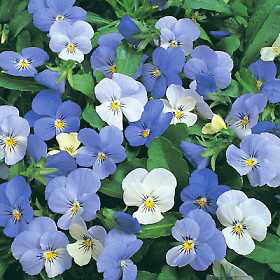 On a rainy day in January, I sat down with Katie Bronson and interviewed her about some of her favorite plants. Katie has been working as a gardener at NYBG for over 10 years, and has been in charge of maintaining the gardens in the Everett Children's Adventure Garden.
Katie has made a lasting impact on the garden during her tenure—imparting her vision of a child-friendly garden, bringing a sophisticated aesthetic with her art background from the Pratt Institute, and imbuing the landscape with the teachings and tenets of ecological landscaping that she acquired while studying for a certificate in Sustainable Landscape Design from George Washington University.
Katie's journey as a gardener began with one of her passions—color. She has always taken great care to create seasonal combinations that captivate the eye and have the capacity to simultaneously stimulate and calm the young hoards of children that race through the gates of the Everett Children's Adventure Garden.
I asked her about violas. Over the past decade, Katie has experimented with many different varieties of violas and pansies in her spring displays. Violas are ebullient patches of color that brighten up the garden in spring. They provide a backdrop for tulips and decorate the three large topiary caterpillars that usher the children into the Adventure Garden's central activity space.
Let me clarify what I mean by violas. Pansies are technically violas but violas are not necessarily pansies. Confused? Pansies are large-flowered hybrids that are derived from several species in the genus Viola. You will see them sold under the botanical name Viola × wittrockiana or occasionally under the old-fashioned name Viola tricolor var. hortensis.
In early 19th-century England, hybridizing pansies was all the rage. A Lady and a Lord from two separate households spearheaded the fashion and amassed violas in every color, shape, and size. They had their gardeners hybridize Viola tricolor, Viola lutea, Viola altaica and several other species in a search that resulted in larger, rounder flowers with overlapping petals and dark seductive blotches on their 'faces'.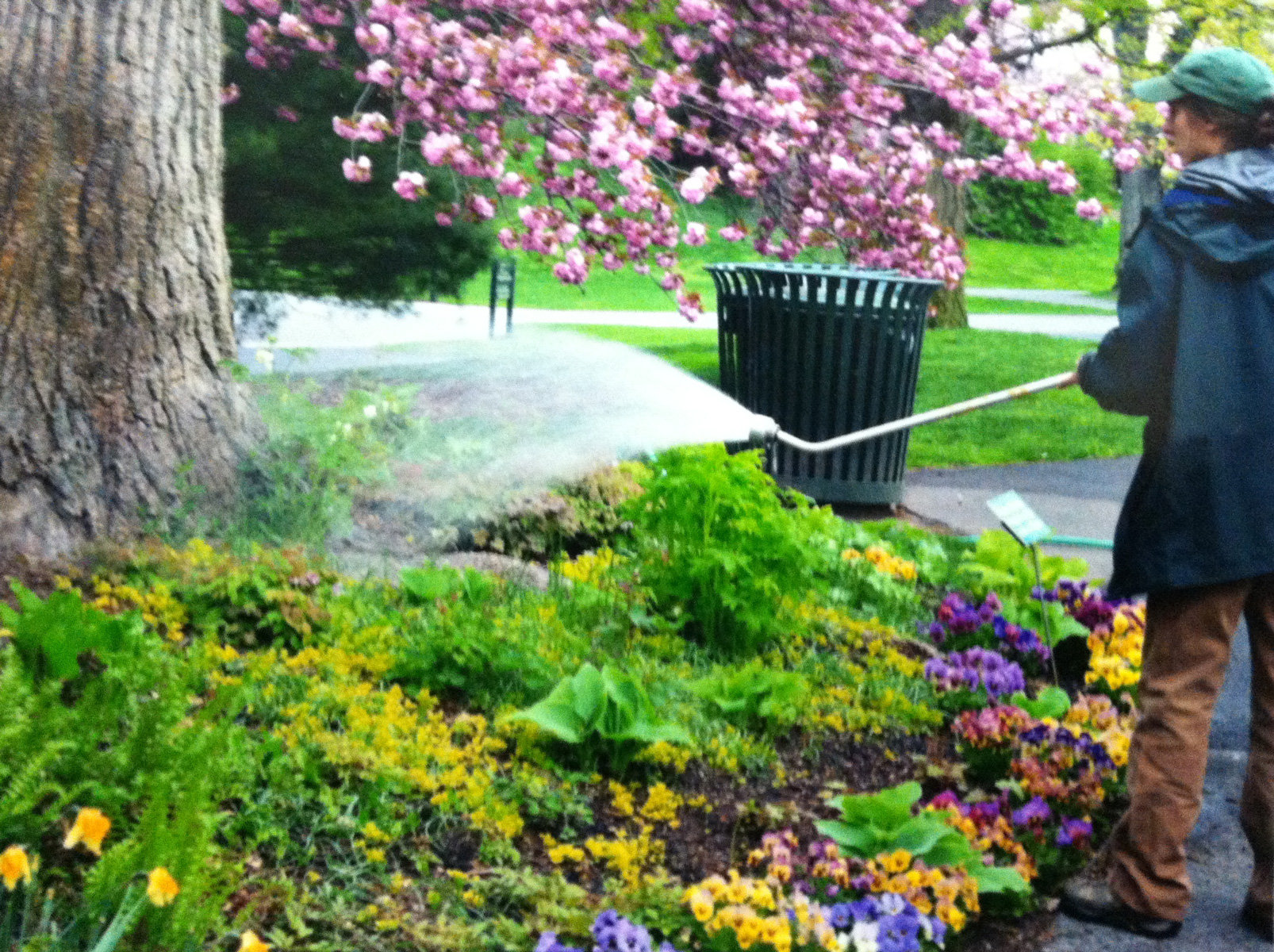 Even thought the terms pansy, viola, and violet are often used interchangeably, most horticulturists understand pansies to be the large-flowered hybrids and violas to be the small-flowered hybrids or species. 'Johnny jump-up' is a nick name for Viola tricolor, but has universal usage as well. Violas can be either annuals or perennials. They are cool season creatures that struggle in the heat of the summer and rest in an inactive state when the temperatures get too hot.
Katie prefers the violas with small flowers for two reasons. One is a practical reason regarding the sheer numbers that she plants. Violas with small flowers don't look terribly messy when the flowers fade and they have a tendency to self-clean. While the seed head is still present, the senescing flower petals shrivel and fall off in an obliging manner. If Katie doesn't have time to deadhead, the display still looks good. Violas tend to flower continuously in rapid succession—flowers that fade and are quickly replaced with new blooms.
The second reason for her preference is aesthetics. Violas have numerous small flowers while pansies have fewer, larger blooms. From a distance, the blocks of color created by violas create a more uniform and striking display. Some of her favorite violas are 'Sorbet Blue Heaven', 'Sorbet Yesterday, Today, and Tomorrow', 'Sorbet Beaconsfield', 'Sorbet Banana Cream' and 'Sorbet Lemon Chiffon'.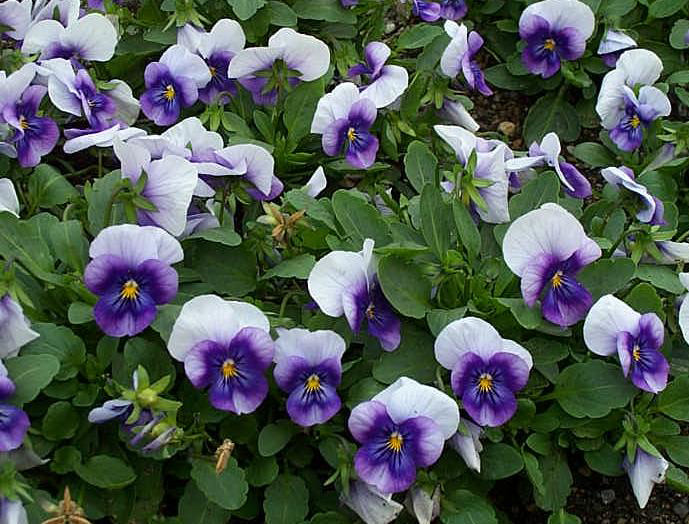 Viola 'Sorbet Yesterday, Today, and Tomorrow' starts white, changes to a soft lavender-blue, and then matures to a deep blue. The three color tones transition beautifully from one into the next. If you like all of your colors crammed into one small flower, 'Sorbet Beaconsfield' is a stunning combination of purple, blue, and pale blue/white. The colors bleed and blend together in a pleasing manner. For varying shades of yellow, Viola 'Sorbet Lemon Chiffon' has performed well in the Everett Children's Adventure Garden and Viola 'Banana Cream' with its white top, bi-colored mid-section, and bright yellow lower petals has brightened many corners.
For the past few years, we have been growing and displaying violas from the Sorbet Series™. This series is a group of hybrids that come in 24 colors. They start flowering early in the season, are heat tolerant, flower prolifically, remain compact and do not stretch. There are many good viola series on the market these days: the Penny Series™, Angel Series™ and Velour Series™ are just a few.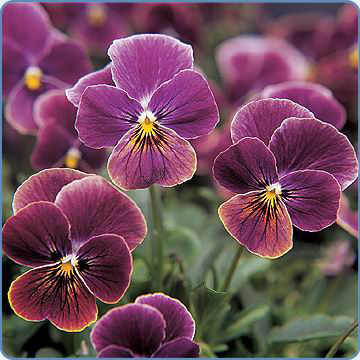 I mentioned some of Katie's favorites. Two favorites of mine that I have used in the vegetable garden as part of an edible display (the flowers are edible) are Viola 'Sorbet Antique Shades' and Viola 'Sorbet Coconut Swirl'. 'Sorbet Coconut Swirl' has a white flower with whiskers and violet edges while 'Sorbet Antique Shades' has it all—whiskers, purple, mauve, and rusty red tones with golden yellow highlights.
One viola that we have used in the past is Viola 'Bowles Black'. While the black flowers are velvety and enticing, we noticed it has a tendency to stretch. As the season progresses the plants get leggy and start to spill over into its neighbors. There is a viola named 'Sorbet Black Delight' on the market. This may be one to try to see if it offers the velvety softness and depth of 'Bowles Black', while maintaining a compact habit.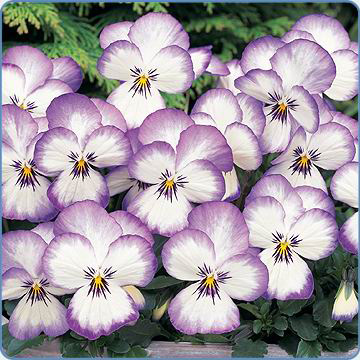 When Katie is designing the topiary caterpillars, she has found that using solid color works best. When she combines several colors together to create patterns or colorful tapestries, the solid colors read better in the designs. The multi-colored violas have a place in the garden but do best when planted en masse and are used complement bulbs or perennials. For example, Viola 'Sorbet Yesterday, Today, and Tomorrow' adds life to emerging coral bell (Heuchera) foliage.
As a general rule, we plant violas 6 to 8 inches apart. When the flowers start to fade, we come and pinch off the senescing bloom with our thumbs and forefinger or with a sharp pair of scissors. If you are not sure if the flower is in bud or on its way out, leave it alone. Come back in a few days and see if a seed head is forming—it will become roundish and start to harden.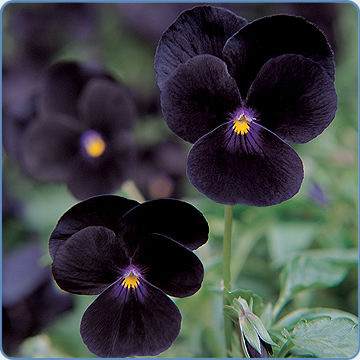 When you are perusing your garden center for plants, look for the violas or pansies that have healthy, green foliage and are nice and compact. Avoid plants that have stretched out. Plants with fewer blooms (buds are always good) are preferable to heavily flowering six-packs. Give them a chance to adjust to your garden before you ask for them to flower—they will reward you soon enough.
As far are the root system is concerned, dense, white roots are a sign of good health. Violas are the opposite of fragile. Do whatever you want when you plant them: cram them into corners, abuse the root system if you are in a bad mood, and they will still flourish.
Partner them with tulips (Tulipa), daffodils (Narcissus), nemesia (Nemesia), pot margiolds (Calendula), lettuce (Lactuca), snapdragons (Antirrhinum) and skirt them around your emerging perennials to fill in some early season bare spots. They will provide color throughout the spring months and get the growing season off to a good start.
If you are a hanging basket aficionado, look out for several new introductions from Blooms of Bressingham. The Bonnie Lassies™ violas were bred in Scotland by Hugh Boyd. 'Laura™' and 'Emma™' are being promoted on the market this year. They are hardy to zone 5, long-flowering, fragrant with large blooms and have a trailing habit that makes them ideal for hanging basket culture. What's not to love?