Planting the White House Kitchen Garden with Michelle Obama
Posted in Children's Education on April 16 2015, by Matt Newman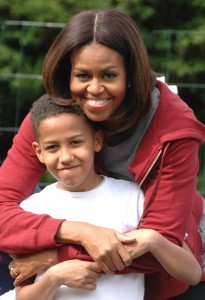 Each year, as spring sets in and the ground thaws, First Lady Michelle Obama takes to the White House's Kitchen Garden to replant it for the season. Naturally, she doesn't do this alone! Tackling the task alongside the First Lady this year were several of The New York Botanical Garden's own greenthumbs who'd made the trek down to Washington, D.C., as part of the Let's Move! fifth anniversary.
Students Nare Kande, a fourth-grader from Harlem; and Sarala Beepat, a sixth-grader from the Bronx; joined Toby Adams, the Director of NYBG's Edible Academy, to help plant radish seeds, bok choy, and other vegetables with Mrs. Obama on April 15. Each student has plenty of experience planting and tending the vegetable beds of NYBG's Ruth Rea Howell Family Garden as part of our Children's Gardening Program, so they certainly had the skills needed to help kickstart spring at the White House.

The trip was made possible by the Institute of Museum and Library Services (IMLS), which selected NYBG to represent the Let's Move! Museums and Gardens program—an undertaking that counts 672 institutions across all 50 states among its supporters. By participating, these institutions join in the  Let's Move! call to action, supporting its national initiative to get kids moving and eating healthy food, and supporting healthy children and families.
This slideshow requires JavaScript.
"It was an unforgettable day for both Nare and Sarala, their parents, and us! Nare and Sarala helped the First Lady plant radish seeds, as well as spinach, kohlrabi, bok choy, spinach, and broccoli in the White House Garden. Nare taught the First Lady how to carefully sprinkle the radish seeds in a row and was sure to water them in thoroughly," said Adams. "It was fantastic that the Edible Academy was part of this event, thanks to IMLS and, of course, the First Lady."