Mouthwatering Marsala: Color of the Year
Posted in Horticulture on April 22 2015, by Sonia Uyterhoeven
Sonia Uyterhoeven is NYBG's Gardener for Public Education.
---
Every year the Pantone Color Institute—in an astute publicity move—announces a "color of the year." Foodies and Italian expatriates will rejoice in discovering that the color for 2015 is Marsala. For the uninitiated, Marsala is a fortified Sicilian wine that is similar to port, sherry, and Madeira.
Like sherry, Marsala comes in a range of ages, colors, and sweetness levels. A drier Marsala is traditionally served chilled between the first and second course, and paired with parmesan, gorgonzola, or another tangy cheese. Sweet Marsalas are served at room temperature as a dessert wine. Most of us have encountered Marsala as a reduction of the wine, prepared with shallots, mushrooms, and herbs for the well-known chicken dish.
As far as the color of the year is concerned, many of us will be delighted that earthy tones are back. They are so wearable! Marsala (the color, that is) is a warm and seductive earthy wine-red. Colorists have described it as hearty, nurturing, stylish, and sophisticated. I am looking forward to wearing the shade on my lips and nails. It partners well with blue-grey, pale lilac, silvery pink, purple, blue, tan, golden green, apricot, and ochre.
I thought it would be fun to search out plants that embodied this color. There are lots of burgundies on the market, and there are many wine-colored reds, maroons, and deep brownish-purples. I fired up PowerPoint and started laying out slides. On each slide I placed a color swatch of Marsala, then I perused my favorite online catalogs in search of earthy, fortified, red-brown flowers and foliage.
In the world of perennials, I found a few choice early season selections. One was a false indigo hybrid named Baptisia Decadence® 'Cherries Jubilee'. This delectable-sounding false indigo is a 2011 Hans Hansen introduction. It is a sturdy, deer resistant, and drought tolerant plant that grows three feet tall and wide. In May, it is covered with dark mahogany buds that open to cinnamon. In the Fabaceae family, the bottom petals are fused to form a boat-like structure called the keel. 'Cherries Jubilee' has a yellow keel, which combined with cinnamon and mahogany makes the flowers simmer.
Bearded irises (Iris germanica) come in a kaleidoscope of colors, and there exists a range of browns to reds to burgundies. Two potential Marsala-like candidates are Iris 'Red Hawk' with its voluptuous ruffled mahogany falls, and the paler Iris 'Gingersnap' with its earthy, Marsala-tan overtones. I included 'Gingersnap' because this gingerbread-red iris is fragrant with a root beer aroma.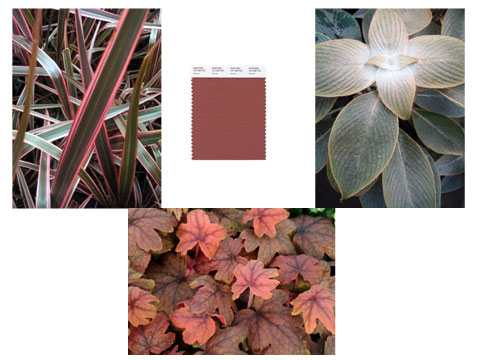 Colorful foliage is the domain of coral bells (Heuchera) and the intergeneric hybrid foamy bells (Heucherella). Heuchera 'Mahogany' grows eight inches tall and 16 inches wide. While the ruffled mahogany foliage emerges with purple overtones in the spring, by summer it has morphed into a brilliant mahogany-red. If it is not the shade for your garden, there is a plethora of apricot, raspberry, russet, plum, and midnight colored coral bells on the market.
Heucherella 'Sweet Tea' is another option. It has the tough, sun and drought tolerant Heuchera villosa as one of its parents. The large palmate orange-bronze leaves with burgundy streaking get darker in the summer months and then lighten up again in the fall. It is a spectacular addition to your garden.
I love lilies and one that caught my eye in this search for Marsala-colored candidates was the striking Lilium 'Night Flyer'. 'Night Flyer' is a Division 1 Asiatic lily. This award-winning lily is a great performer with slightly pendant, outward-facing, deep wine-red flowers. It grows three to four feet tall.
On the tender perennial and annual front there are exciting choices for Marsala-colored plants. For foliage, both New Zealand flax (Phormium tenax) and burgundy cordyline (Cordyline) are potential candidates. The bronze New Zealand flax (Phormium tenax 'Atropurpureum') has purplish-red, sword-like leaves that are frosted with a bronze tint and makes a wonderful accent plant, reaching three to four feet tall.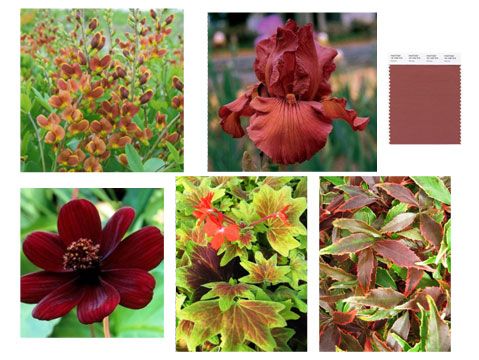 Phormium 'Rainbow Queen' has bronze foliage with a pink margin. While it doesn't fall under the category of Marsala, it would complement Marsala colored plants or containers beautifully. Another New Zealand native that is very Marsala in color is the lesser known Haloragis erecta 'Wellington Bronze'. It has serrated bronze leaves on burgundy stems and usually grows one and a half to two feet tall in this part of the country.
If you would prefer a Cordyline, then Festival™ Burgundy Cordyline has burgundy-red, sword-like foliage and has great architectural appeal. Cordyline 'Design-a-line' is another luscious burgundy-red colored selection that is available on the market. They also grow three feet tall and wide.
For coleus (Solenostemon) look for a selection named 'Velvet Mocha' with long, narrow, chocolate-burgundy leaves; don't miss the chocolate cosmos that smells as good as it sounds—Cosmos 'Coco Chanel' is one cultivar. The prehistoric looking Marmaduke Rex begonia (Begonia 'Marmaduke') has Marsala-speckled golden leaves.
For some more unusual selections look for copper plants Acalypha 'Lava Flow' and Acalypha godseffiana 'Heterophylla'. 'Heterophylla' has serrated lance-shaped leaves that are a pleasing infusion of burgundy-red, green, and gold. It has a mounding habit and reaches 12 inches tall. 'Lava Flow' grows two feet tall and has bronzy orange, red and gold foliage. All in all, there is a good selection available to satisfy any color connoisseur!