Nurturing the Next Generation of Young Gardeners
Posted in Children's Education, Learning Experiences on April 29 2015, by Plant Talk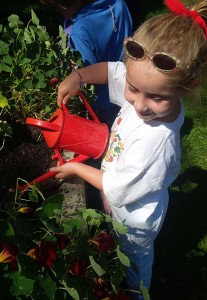 A flock of migrating birds fly from one end of the Ruth Rea Howell Family Garden to the other, flapping their wings and erupting with birdcalls as they go. They're migrating from New York to Mexico and back again.
There's one in pink shorts, and another in a NYBG t-shirt. One in a sunhat swoops past a bed of lettuce. These "birds" are actually children participating in a nature activity in the Children's Gardening Program.
One of them, young gardener Adena Zitrin, and her mother, Debra Asher-Zitrin, have participated in the Sprouts program, for kids ages 3 to 5, for the past two years.
"It's unlike any class we've ever taken—and we've taken music, art, and gym classes," Debra said. "There's something very bonding that goes on between the parent and the child in CGP. It's very sweet, the working together that goes on."
Debra's two older children also participated in Sprouts and are now Crafters, the program for kids ages 6 to 12.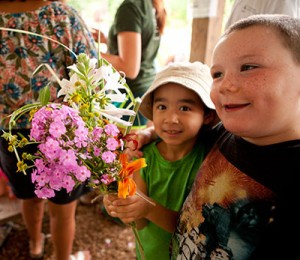 "It really seemed like one of the highlights of their early childhood experiences," said Debra, who had no gardening experience prior to the Sprouts program, where a parent or guardian joins in the hands-on gardening fun.
The Garden's CGP instructors teach kids to plant, tend, and harvest fresh produce, in addition to introducing ecological concepts and nature lessons—like bird migration—into the curriculum. The program impacts the daily lives of children who participate, Debra said, citing several examples of how their family as a whole has changed since starting to participate in the program.
"My kids really understand how we all connect with the Earth, that it's not something separate and apart from us," Debra said. "And they're much more aware of nutrition and the kinds of vegetables that are out there. We eat a wider variety of vegetables and have invented all these different ways to eat kale."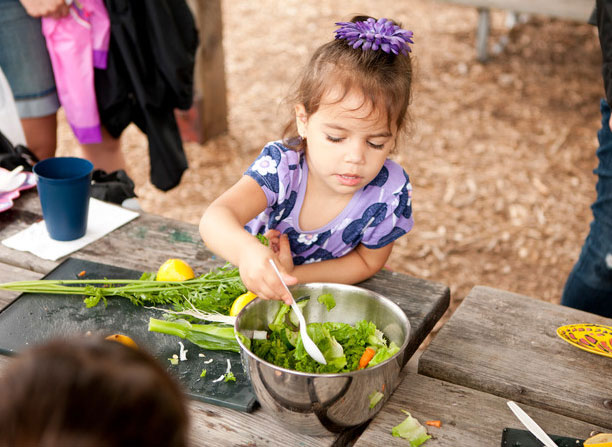 The family also takes advantage of their own home-gardening opportunities.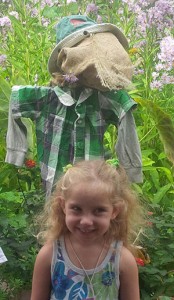 "We plant flowers in our backyard," Debra said. "And we've had some tomato plants, which I maybe would not have attempted if we hadn't gone through the program."
The Sprouts program includes other fun, age-appropriate activities to pique the interest of even the most discerning young gardener. Sing-alongs and crafts sprinkled throughout the day's activities engage kids who prefer those types of activities, too.
"Adena made a pressed-flower bookmark that she treasures and uses for her bedtime stories," Debra said. "It's a really sweet memento of the experience, and we see it every night when we read our books."
Simply being outdoors can be almost therapeutic for child and parent alike. Not only is it peaceful and relaxing to connect with nature, the act of gardening is special, too.
"Actually digging in the dirt and planting things and feeling something that neither my child nor I are that familiar with—plant life and vegetables—was a very warm and nurturing experience," Debra said.
It's a very busy world we live in, and sometimes we need to stop for a minute, hear the bids, see the butterflies fly by, and maybe dig up some worms for the garden beds.
Spring sessions of the Children's Gardening Sprouts Program start on April 29, April 30, and May 1. Summer sessions for Garden Crafters begin in July. Learn more.