What Kids Say About Plants
Posted in Children's Education on May 18 2015, by Joyce Newman
Joyce H. Newman is an environmental journalist and holds a Certificate in Horticulture from The New York Botanical Garden. She is the former editor of Consumer Reports GreenerChoices.org and a blogger for several home and garden publications.
---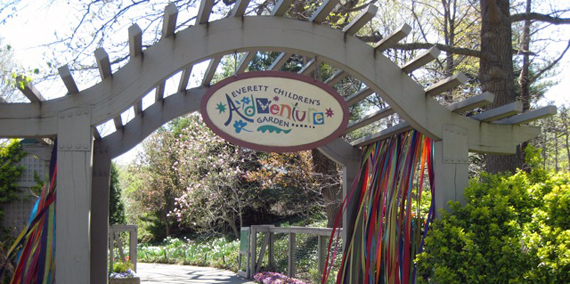 Every week during the school year, more than 1,200 young children participate in specially designed school programs developed and taught at the Everett Children's Adventure Garden (ECAG). And that number swells to about 1,600 during New York City's school testing weeks in April when more students stream into ECAG's gardens and facilities because upper grades are taking tests.
"During the spring we see a big uptick in the number of school field trips. Our facility can serve over 2,000 students per week, allowing us to deliver programming to more children than any other children's venue within NYBG," says Fran Agnone, Coordinator of the Adventure Garden.

The activities that ECAG staff have created may be part of the reason so many school groups keep coming back for more. Many of the children—ranging in age from 4 to 11—have never been to a public garden before, let alone a children's garden with adventure trails, bridges, wetlands with wildlife, a maze made out of planters, and even a frog pond.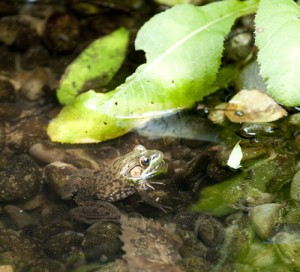 "It's frog paradise," exclaimed Peter, a first grader who visited for the first time last week on a field trip from his school on the Upper West Side of Manhattan.
His class found frogs as well as tadpoles while exploring "Plant Part Paradise," a small, enclosed garden area with a variety of flowering plants, trees, and shrubs where ECAG instructors teach kids about each part of a plant and the "job" it does.
The students find out that frogs are eating the insects that are pollinating the flowers in the garden. So later on, when they visit a "food web diagram," they can see how frogs and other animals fit into different food chains.
These activities are part of the "Plant Parade," "Seed Go Round," and "Ecology Escapade"—curricula developed by ECAG staff. A key goal for each of these activities is that students learn to act like scientists: to see, smell, touch, draw, take field notes, and, in general, think like scientists. And this goal seems to be within reach, based on comments by the students.
Here are some thoughts—scientific and otherwise—that the kids have recently expressed:
What a hyacinth smells like: "It smells like a rainbow."
On planting a kidney bean: "Is a kidney bean like a jelly bean?"
When given a pot for a plant: "This is my second plant that I planted in my life."
When seeing a cattail: "It looks like a hot dog!"
Things plants need: "They need love."
On scientists: "I want to be a scientist but I'm not sure which one."