Posted in Horticulture on June 11 2018, by Joyce Newman
Joyce H. Newman is an environmental journalist and teacher. She holds a Certificate in Horticulture from The New York Botanical Garden.
---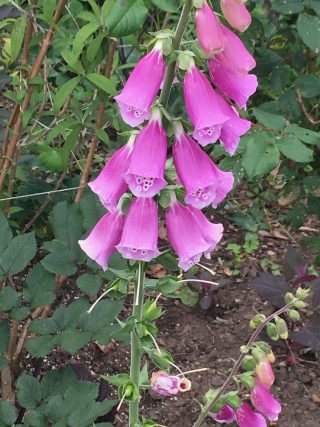 In June, purple foxgloves (Digitalis purpurea) are in bloom at NYBG. Tall, striking spires with dozens of little finger-shaped blooms, foxgloves are native all across western Europe. Traditionally cultivated in English borders, there are about 20 different species. They bloom in colors from yellows, pinks, lavenders, and whites to purple, with dark spots inside the blooms.
The leaves form in large clusters during the first year, and there are no blooms. Large and fuzzy green, they look a bit like sage or even spinach. In the second year, the blooms appear and the seeds can eventually be collected for re-planting, or they may naturalize.
Totally Toxic
A folk myth about foxgloves claims that the foxes who make dens in the woodland hills wear the flowers on their paws when they attack rural villagers. Sometimes called "witches' gloves," the plant's toxicity was known for centuries by herbalists. Other common names for the plant are also a dead giveaway to its potent effects, including "witches' thimbles" and "dead man's bells".
The entire plant is poisonous, according to experts. But the leaves, in particular, contain more concentrated toxins.