A Tale of Two Caterpillars
Posted in Children's Education on June 8 2015, by Joyce Newman
Joyce H. Newman is an environmental journalist and teacher. She holds a Certificate in Horticulture from The New York Botanical Garden.
---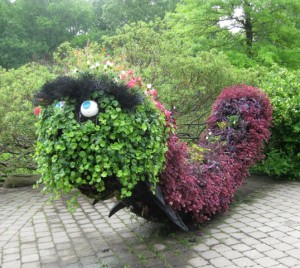 To the delight of all visitors, two giant caterpillar topiaries—dubbed Frida and Diego—have recently been designed and planted by NYBG gardeners, Diana Babbitt and Katie Bronson, in the Everett Children's Adventure Garden.
"We thought it would be fun to try to make a Frida caterpillar," explains Katie. "So we looked at a lot of her pictures where she is wearing flower headdresses and we tried to make one of those."
Frida is filled with deep purple-red coleus punctuated by bright pink Zinnia elegans that contrasts with nearly black Salvia discolor on her body. Her raised head is softened by green 'Round Leaf' Hedera, and her eyes look straight ahead, portrait-style, under those famous bushy eyebrows.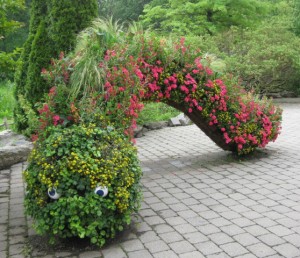 Unlike Frida, Diego's topiary design isn't meant to be a likeness. But the staff calls him Diego anyway. He's about 12 feet long and covered with cherry red verbena interplanted with yellow creeping zinnias (Sanvitalia sunbini). Along his back, a row of Mexican feather grass (Nassella tenuissima) waves in the breeze and seems to animate his body.
"The topiaries are among the most exciting teaching spots for students," says Adventure Garden Director Patricia Hulse. "The children often get up very close to observe and to draw the plants that 'dress' the topiary."
Not surprisingly, the two caterpillar topiaries are also a favorite spot for photo opportunities—school classes, families, and friends love to take pictures in front of them.
"For families, the tie-in to the Adventure Garden's 'Frida's Flora and Fauna' program this summer is spectacular," adds Hulse. "The array of colors and plant species helps bring a little piece of Frida Kahlo's Mexico to our children's programs."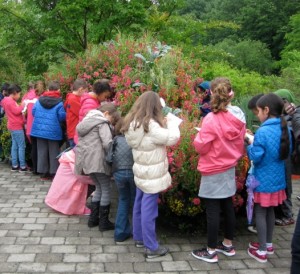 The Adventure Garden also features Frida's Puppet Theater; a brightly colored casita that serves as a fun playhouse; a gorgeous star-shaped pinata; and other imaginative decorations, settings, and activities for young children and families.
The Everett Children's Adventure Garden is open weekdays from 1:30–5:30 p.m. and weekends plus Monday Holidays from 10 a.m.–5:30 p.m.