Concrete Jungle Flourishes through Green-Up
Posted in Learning Experiences, People on August 28 2015, by Plant Talk
Ken Iwuoha worked with Bronx Green-Up this summer, and will be attending York College this fall. Bronx Green-Up, the community garden program of The New York Botanical Garden, provides horticultural assistance, community organizing and training to Bronx gardens and urban farms. For more information, click here.
---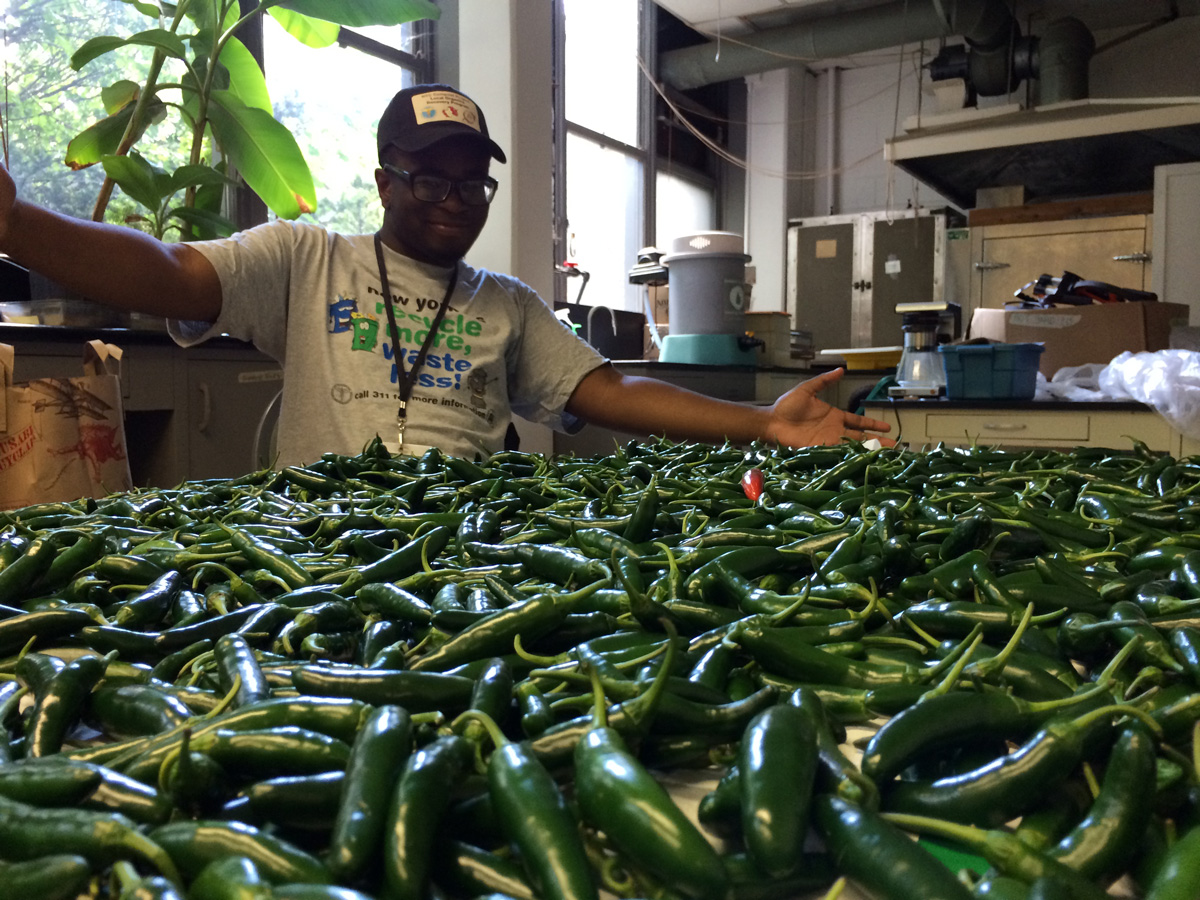 Allow me to introduce myself. My name is Ken Iwuoha. I am a SYEP (Summer Youth Employment Program) worker for the summer of 2015. I have worked for The New York Botanical Garden for over six weeks, with the Bronx Green-Up Program.
As an individual born and raised in the Bronx, I have adapted to buildings, construction, and pollution—the "City Life." I used to think that planting a tree in front of your house was the best way of being green. After working for Bronx Green-Up, however, my point of view has changed completely. Donating plants and providing services to local community gardens and schools has opened my eyes to the beauty of the Bronx.
Bronx Green-Up has shown me that there is so much that you can do to keep the Bronx beautiful, healthy, and clean. I've learned a lot about composting working with Jodie (The Compost Queen), Kathy, and Braeden of the NYC Compost Project hosted by The New York Botanical Garden. I never knew that you could use old and unused organics to enrich depleted soil for future plants to come. With Ursula, Sara, and Aleyna of NYBG's Bronx Green-Up, we donated plants, offered workshops, provided advice to urban farmers, and prepared ourselves for any future events. Today, we worked with the Garden of Life and Health to weed, plant flowers, and polish up the garden for our upcoming Harvest Festival in September. We helped create urban farms. Yes, we do have farms in the Bronx! There are even some with chicken coops!
Bronx Green-Up is a program that works behind the scenes, but the community gardens that it helps are open for public use and display. It's a wonderful thing that Bronx Green-Up does for little praise and credit. John Wooden, a former UCLA college basketball player and coach, stated that "It's the little details that are vital. Little things make big things happen." Bronx Green-Up has shown that quote to be true in its work with community gardeners. These little gardens are growing in size and number, due in part to the inspiration of the Green-Up team. This will definitely help to keep the Bronx thriving. I personally want to thank them greatly for this wonderful working experience.