It's Not Easy Being Blue
Posted in Horticulture on September 9 2015, by Kristine Paulus
Kristine Paulus is NYBG's Plant Records Manager. She is responsible for the curation of The Lionel Goldfrank III Computerized Catalog of the Living Collections. She manages nomenclature standards and the plant labels for all exhibitions, gardens, and collections, while coordinating with staff, scientists, students, and the public on all garden-related plant information.
---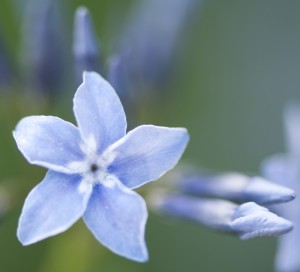 Just about every color in the spectrum is represented somewhere in The New York Botanical Garden, but this summer blue is particularly significant. According to scientific studies, the hue is the most universally liked by humanity and so visitors to the Garden will certainly be pleased at the sight of the evocation of Frida Kahlo's Casa Azul in the Enid A. Haupt Conservatory The celebrated Mexican painter's famous blue house was closely studied, enabling exhibitions staff to precisely match a backdrop of cobalt-blue walls for FRIDA KAHLO: Art, Garden, Life.
It's not surprising that Frida chose this shade for her abode. Blue has more symbolic meanings than any other color. As the tint of life-giving water and of the sky, home to numerous deities of many cultures, blue has been held in high regard throughout time. In art and in life it has been reserved for the most important people and things, including Pharaohs, Renaissance Madonnas, and Elvis' shoes. The first synthetic pigment ever created, invented by the Ancient Egyptians, was, of course, blue! The pursuit of the perfect blue has molded entire civilizations. [1]

Though a multitude of adjectives are used to characterize the range of values from azure, to cerulean, cyan, turquoise, and ultramarine, one simple primary color is used to describe a song note and a musical genre, an artistic period, a type of person, a lunar phase, or a mood. Yet, despite the cultural importance of this chroma, blue is rare in nature—perhaps that is what makes it so special. Minerals and stones such as azurite and lapis lazuli are not so common, as with birds or insects, which more frequently have warmer tones instead.
This slideshow requires JavaScript.
Plants bearing blue flowers are even rarer. Less than 10 percent of the 280,000 species of flowering plants produce blue flowers. [2] Plants don't have a true blue pigment. Instead, they modify their red anthocyanin pigments and perform some complicated alterations of molecules and ions, with a dash of smoke and mirrors for effect (actually, reflected light—but I'll leave it to our friends in Science to better explain that one).
Embrace the rarity of this spectacle and walk the Garden's grounds to see some of our beautiful blue-flowering plants blooming now:
Hydrangeas, whose blues depend on the pH level of the soil they're in, are fickle—the more alkaline the soil, the pinker the flowers. Increase acidity to make the flowers turn blue (however, only the flowers of Hydrangea macrophylla change colors and it's best to choose blue cultivars). Check out the hydrangea collection in the Home Gardening Center.
Bottle gentian (Gentiana andrewsii) in the Native Plant Garden is a late summer/fall bloomer with dark blue flowers, while summer gentian (Gentiana septemfida) can be found in the Rock Garden.
Several sage cultivars (Salvia) are blue. Look for them along the Ladies' Border, in the Perennial Garden, and the Home Gardening Center.
Admire tall larkspur (Delphinium exaltatum) towering in the Native Plant Garden.
The unusual looking sea-holly (Eryngium × zabelii 'Big Blue') can be seen in the Perennial Garden and Seasonal Walk.
A colorful fall delight, leadwort (Ceratostigma plumbaginoides) grows in the Rock Garden.
Visit the Enid A. Haupt Conservatory to view blue passionflower (Passiflora caerulea).
Another autumn favorite, aromatic aster (Symphyotrichum oblongifolium 'October Skies') is in the Azalea Garden, Native Plant Garden, and Perennial Garden.
Behold great blue lobelia (Lobelia siphilitica) as it graces the Native Plant Garden.
Blue mist shrub (Caryopteris × clandonensis 'Longwood Blue') is a cloud of sky-blue late summer flowers in the Perennial Garden.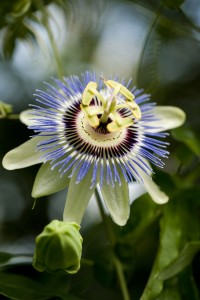 However, if you miss any of the plants that are putting out blue flowers as you read this, come back in spring to see a profusion of blue floral displays such as Virginia bluebells (Mertensia virginica) in the Native Plant Garden; glory-of-the snow (Chionodoxa forbesii 'Blue Giant') in the Perennial Garden and on Wamsler Rock; lilac cultivars (Syringa sp.) such as 'Porcelain Blue', 'Wedgewood Blue', 'Wonderblue' in the Lilac Collection; Grecian windflower (Anemone blanda 'Blue Shades') in the Ladies' Border; Siberian bugloss (Brunnera macrophylla) in the Azalea Garden and Home Gardening Center; camas (Camassia sp.) in Everett Children's Adventure Garden; bluestar (Amsonia sp.) in the Azalea Garden, Native Plant Garden, and Perennial Garden; blue ornamental onion (Allium caeruleum) in the Rock Garden and Ladies' Border; and narrowleaf blue-eyed grass (Sisyrinchium angustifolium) in the Native Plant Garden.
Although blue flowers are anything but ordinary, the collections and exhibitions at the New York Botanical Garden are sure to provide plenty of visual pleasure to those who enjoy this beguiling color, and there's a good chance that includes you.
---
[1] Museum of Fine Arts, Boston. (2015). Blue: Cobalt to cerulean in art and culture. San Francisco: Chronicle Books.
[2] Lee, D. W. (2007). Nature's palette: The science of plant color. Chicago: University of Chicago Press.