After 125 Years, Some Well-Deserved Cake
Posted in Programs and Events on May 19 2016, by Ariel Handelman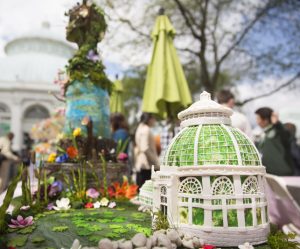 During the opening weekend celebration for Impressionism: American Gardens on Canvas, and in honor of our 125th Anniversary, I had the pleasure of being a judge for our first ever cake contest! We reached out to local bakeries and challenged them to create special anniversary cakes with the theme of nature, gardens, plants, and art—a broad theme that allowed for the creativity of these master bakers to shine through.
Judging was based on aesthetics and interpretation of the theme (not by tasting, unfortunately for me, though each bakery did supply a sheet cake for sampling). Having to rank these works of art was difficult, but between the public voting via text messages and the other two judges—Casey Barber and Jen Chung—we managed to narrow down our choices.

The honorable mention went to Simply Sweetz Boutique for their deep research into the flora and fauna of Indonesia and their beautiful translation of these exotic flowers into sugary cake art featuring vanilla, clove, nutmeg, and lavender. They even included a rare Indonesian flower that only blooms once a year.
This slideshow requires JavaScript.
Third place went to La Piñata Bakery, where they focused on the magnificent birch tree (which looked completely real) alongside a pond of Peruvian waterlilies, a rice crispy red cardinal, and wood peckers that adorned this three-tiered cake.
Second place went to Chantilly Patisserie for their mind-blowing artistic talent both in sculpting delicate, accurate, and colorful flowers, and the Impressionist paintings and cameos they created to decorate the cake. The gold accents were a luxurious touch that added just the right nod to our current exhibition. My favorite part was the gold cup topper (made out of sugar, naturally) boasting the most realistic flowers pouring over it. I wanted to keep this piece in my office!
First place went to Conti's Pastry Shoppe. The bakers had done their research—about NYBG, Impressionism, plants and flowers, you name it—and used it to create a vignette that featured a detailed model of the Haupt Conservatory, illustrating each detailed line of the half-rosette windows with white fondant. The waterlily Courtyard Pool used green Jolly Ranchers for both color and texture. Next to the pond stood a model of the Garden's very own Stone Mill—topped with an edible tree and a candied sculpture of Mother Nature herself. The cake encompassed so many elements of nature, art, and NYBG!
This slideshow requires JavaScript.
It was a tough challenge to choose these winners out of the entire group, and there were certainly many inspired cakes provided by the other competitors. I hope we do this contest again (with a fun new theme), as showcasing this bakery talent was truly a wonderful mix of art, food, and culture. And quite delicious, although I could never cut into one of these masterpieces!
---
Cake Contest: Participating Bakeries