Posted in Programs and Events on May 19 2016, by Ariel Handelman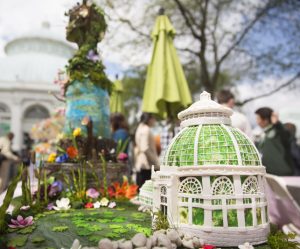 During the opening weekend celebration for Impressionism: American Gardens on Canvas, and in honor of our 125th Anniversary, I had the pleasure of being a judge for our first ever cake contest! We reached out to local bakeries and challenged them to create special anniversary cakes with the theme of nature, gardens, plants, and art—a broad theme that allowed for the creativity of these master bakers to shine through.
Judging was based on aesthetics and interpretation of the theme (not by tasting, unfortunately for me, though each bakery did supply a sheet cake for sampling). Having to rank these works of art was difficult, but between the public voting via text messages and the other two judges—Casey Barber and Jen Chung—we managed to narrow down our choices.