Review: Marta McDowell's Latest Book, All the Presidents' Gardens
Posted in History, Shop/Book Reviews on May 26 2016, by Jenifer Willis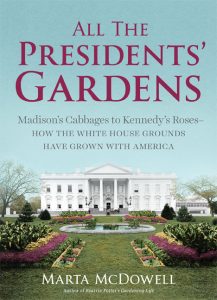 If Marta McDowell's last book, Beatrix Potter's Gardening Life, was a stroll down the memory lane of childhood whimsy, her latest book, All the Presidents' Gardens: Madison's Cabbages to Kennedy's Roses—How the White House Grounds Have Grown with America, feels like a journey into the secret, lesser-known world of political plantscapes that shaped foreign policy and inspired American lifestyles.
Although one might think Presidential garden history would be a bit dry, I can assure you it is not—in fact, I read the entire book in one evening. It is Marta's "voice" that creates a sense of fascination within the reader. Her wit and insight shines through as she describes the White House Gardens, sometimes utilitarian and spare, and other times lush and extravagant. (In fact, Marta, could you go back in time and rewrite all my high-school and college history books?)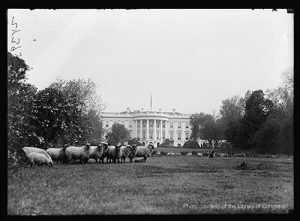 The text is complemented by historic documents and photographs, starting with Thomas Jefferson's impeccably kept records, finishing with photographs of children, Michelle Obama at their sides, as they tend the soil in the White House Kitchen Garden in 2009. Plant lovers will be pleased to see photographs and illustrations of vintage plant cultivars, such as althaea (Hibiscus syriacus), commonly known today as rose of Sharon, and amaryllis cultivars bred specially for the Rutherford B. Hayes White House. Photos go beyond the plant world to delightfully include the animal kingdom—like Theodore Roosevelt, Jr.'s pet macaw, Eli, who lived in the greenhouses; Laddie Boy, Warren Harding's Airedale terrier, who had his own portrait taken in the Rose Garden; and a particularly wee First Garden regular visitor in the 1920s, Pete the squirrel, as he was dubbed by the press corps—all of which were welcome in the gardens.
Landscape historians will appreciate the tidbits McDowell sprinkles throughout about the historical integrity of the gardens on White House grounds. For example, the Obama's edible garden's location adhered to the 1935 Olmsted plan. Not only that, but Assistant White House Chef Sam Kass visited Monticello during the garden's planning phase and brought back with him seeds and plants of varieties that Thomas Jefferson grew in his own garden. And, for the true horticulture aficionado, the back pages of the book list every recorded plant ever grown on White House grounds over the past two centuries.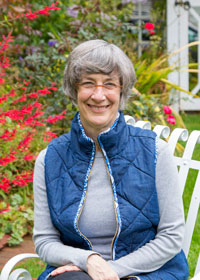 The greatest achievement of Marta's book, though, isn't the precise documentation of the history of The First Garden, if you will, but in the way she weaves the tales of American ingenuity and preservation into it. As she says, all gardens are ephemeral. Perhaps Presidential gardens are some of the most fleeting. One striking passage regards a very special elm tree:
"An ancient elm, believed to be one of the seedlings nurtured by John Quincy Adams in the late 1820s, was terminally weakened after a second lighting strike and reluctantly removed in 1991. First Lady Barbara Bush planted a replacement, a sapling propagated by White House gardener Irv Williams. He grafted a tender cutting from the Adams original tree onto new rootstock. It just might be a metaphor for America" (232).

I would extend that metaphor, if I could, to encompass all our gardening traditions, from the First Garden to the window boxes outside the many apartments of New York City.
Marta McDowell lives, gardens, and writes in Chatham, New Jersey She writes and lectures on gardening topics and teaches landscape design history and horticulture at The New York Botanical Garden, where she studied landscape design. Don't miss Marta's upcoming lecture on All the Presidents' Gardens on Friday, June 17, at 10 a.m. Get more information.