Posted in History on November 28 2018, by Stevenson Swanson
Stevenson Swanson is Associate Director of Public Relations at The New York Botanical Garden.
---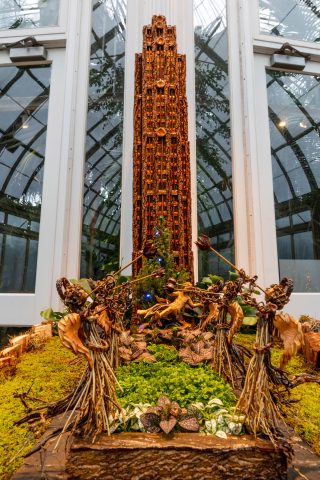 Of the more than 175 New York landmarks in this year's Holiday Train Show®, it's particularly appropriate that Rockefeller Center's soaring Art Deco skyscraper and other well-known features are included in NYBG's annual display of building replicas made of bark, leaves, and natural materials. More than 200 years ago, a botanist-physician named David Hosack established one of America's first public botanical gardens on Rockefeller Center's site, cultivating rare and important plants on land that is now home to America's most famous cluster of skyscrapers, shops, galleries, and, during the holidays, a towering, glittering Christmas tree overlooking the bustling plaza.
Dr. Hosack's life and the story of his pioneering botanical garden are the subject of American Eden: David Hosack, Botany, and Medicine in the Garden of the Early Republic, by Victoria Johnson, which was a non-fiction finalist for this year's National Book Award and was recently named one of 2018's 100 most notable books by The New York Times Book Review.
Born in colonial New York City in 1769, Hosack came of age as the young United States began to establish itself. "It fell to Hosack's generation to build the civic institutions that would guarantee the future health and prosperity of the Republic," writes Johnson, a Hunter College professor who conducted much of the research for her book at NYBG's LuEsther T. Mertz Library and William and Lynda Steere Herbarium, both of which have important collections of original Hosack material, including some of his preserved plant specimens.