What's Beautiful Now: Art, Music, & Summer's Start
Posted in What's Beautiful Now on June 17 2016, by Lansing Moore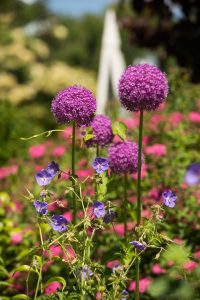 Early summer at NYBG brings blooms aplenty for Father's Day this weekend, and well into next week. Come admire the grounds, and plan your visit around tomorrow night's inaugural NYBG/125 Evening, Canciones de mi Padre, featuring Ernesto Villalobos & Gizel Xanath. These talented musicians are joined by Mazarte Dance Company for a summer evening al fresco concert in celebration of Father's Day.
On Sunday, the Garden comes alive with a display of artistic talent as NYBG hosts more than 20 talented painters for the Plein-Air Invitational. Get more information about the artists here, or view this exclusive video. NYBG/125 Evenings continue next Thursday with tap and jazz by The Manzari Brothers and DIVA's FIVE PLAY—featuring an evening viewing of Impressionism: American Gardens on Canvas in the Enid A. Haupt Conservatory.
View photos below that highlight what's beautiful now at NYBG— from the Peggy Rockefeller Rose Garden to the Perennial Garden and beyond!
This slideshow requires JavaScript.