A Botanist's Vocabulary
Posted in From the Library on July 18 2016, by Esther Jackson
Esther Jackson is the Public Services Librarian at NYBG's LuEsther T. Mertz Library where she manages Reference and Circulation services and oversees the Plant Information Office. She spends much of her time assisting researchers, providing instruction related to library resources, and collaborating with NYBG staff on various projects related to Garden initiatives and events.
---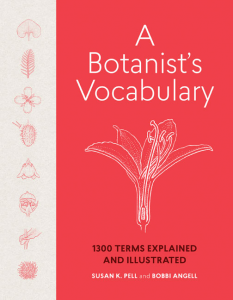 The library staff at The New York Botanical Garden has been eagerly awaiting A Botanist's Vocabulary arrival on the market and in our collection. Finally, this beautiful new book from Susan K. Pell and Bobbi Angell has arrived!
The first, visceral impressions were positive. The size and heft of the book is pleasant, and not overwhelming. Those who have studied botany, or interacted much with botanists, will know that talking about plants in technical terms can sometimes feel like speaking another language altogether. How can one begin to pack all of that vocabulary into a single book, or even, really, a single brain? A Botanist's Vocabulary is a beautiful and balanced start.
The red cover catches the reader's eye right away, especially considering how frequently books about plants are accented in green. A quick leaf through the pages immediately draws the reader in—Angell's illustrations are lovely in their botanical detail, and also in their simplicity. Angell, writing about this project in the June 2016 issue of The Botanical Artist, says of the book, "My focus was to make clear, crisp drawings for easy understanding by gardeners and botanical artists," a focus that carries through beautifully in the work.

Moving past the illustrations, the definitions themselves are crisp and clear. Readers will note, as I did, that Vocabulary does not claim to be a dictionary. In fact, the body of terms and illustrations is called a "glossary" by the authors. This is in keeping with the titling of similar publications—namely The Cambridge Illustrated Glossary of Botanical Terms by Hickey and King, and Plant Identification and Terminology: An Illustrated Glossary by Harris and Harris. The dictionary enthusiast that I am, I was pleased to see "see also," "synonym," and "antonym" additions to definitions. However, Vocabulary might have gone a step or two farther in its layout. For all its beauty, usability might have been increased somewhat if the authors had included an index or a brief thesaurus showing relationships between words.
For example, in such a thesaurus, "fruit" might have the narrower terms of "dehiscent" or "indehiscent." I mention this specifically because the introduction suggests that Vocabulary might be used as a field guide for identifying "strange-looking fruit." However, without alerting the reader to which terms are fruit terms, using the text as a field guide is not really possible without reading through every single entry. On a more stylistic level, the practice of bolding words used in definitions that are themselves defined elsewhere would be a lovely addition in any future edition of Vocabulary.
In her essay for The Botanical Artist, Angell writes, "My awe and respect for the plant world grew as I came to realize there is no way to encompass the diversity within a single text … I hope that our publication will inspire others to explore and appreciate the diversity of plants." Readers of Vocabulary cannot help but feel that inspiration. For lovers of plants and for lovers of language, A Botanist's Vocabulary is an essential addition to the home and botanical library alike.
A Botanist's Vocabulary: 1300 Terms Explained and Illustrated by Susan K. Pell & Bobbi Angell. Timber Press, 2016. 224 pages, 726 line drawings. Hardcover. $24.95. ISBN: 9781604695632