Kiku with a Modern Twist
Posted in Kiku on October 28 2016, by Joyce Newman
Joyce H. Newman is an environmental journalist and teacher. She holds a Certificate in Horticulture from The New York Botanical Garden.
---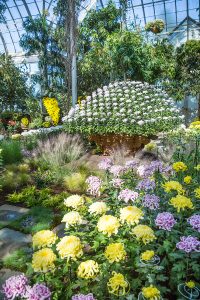 This year The New York Botanical Garden is celebrating chrysanthemums—the most iconic of all Japanese fall-flowering plants—in a new, awe-inspiring display. The Kiku exhibition (open through October 30) in the Enid A. Haupt Conservatory has a unique contemporary feel with new sculptural shapes as well as the older traditional forms.
Kiku means chrysanthemum in Japanese. It is the national flower of Japan, part of the Imperial Crest, and the subject of regular exhibitions at the Shinjuku Gyoen National Garden in Tokyo, where Japanese masters have trained New York Botanical Garden staff over the years to cultivate special shapes and colors in the traditional Imperial style.

Kiku Modern
What is so amazing about this year's kiku exhibit is the preparation and meticulous technical skills employed behind the scenes to create both new and traditional experimental flower forms.
It takes the staff up to 11 months to grow and sculpt the various forms to be displayed. The kiku design team includes the Foreman of Gardeners, James Harkins, who trained with and works alongside kiku expert Yukie Kurashina, who was educated by kiku masters in Tokyo starting in 2004.
Francisca P. Coelho, Vivian and Edward Merrin Vice President for Glasshouses and Exhibitions, designed the exhibition. She likes to call it "kiku modern" for its contemporary take on traditional Japanese designs; for example, Coelho has incorporated stunning sweeps of native grasses like the pinkish-lavender Muhly grass (Muhlenbergia capillaris) and South African bristle-leaved red top (Melinis nerviglumis).
[Not a valid template]
Living Sculptures
One of the most beautiful plant forms showcased in the exhibit is called Ozukuri (thousand bloom)—a dome-shaped array of 200 symmetrically placed chrysanthemum blooms grown from a single plant stem. The process is incredibly intricate: As the plant grows from its single stem, branch tips and side branches are pinched off until only five strong branches remain.
Next the plant is re-potted in a large wooden container called a sekidai. Each of the branches is tied to a vertical stake to help it grow straight. When the branches reach six feet high, they are untied and re-tied to an even larger frame. In the end, hundreds of simultaneous blossoms are shaped into a massive display. And just in case a bloom is damaged or a stem breaks, back-ups are cleverly tucked away beneath the branches.
Besides the impressive Ozukuri form, the exhibit features a dramatic cascading form called Kengai, meaning "overhanging cliff." These flowers have been trained to look like plants in the wild flowing down the side of a cliff—an awesome visual effect.
The plants are each grown from a single stem trained along a wire. As the branches grow, they are pinched off so that many short branches develop. Eventually, when it is large enough, each plant is moved to a larger pot and tied to a boat-shaped, horizontal frame of wire mesh. Branches are precisely woven through the mesh and tied in place so that the frame will become covered with hundreds of small flowers. When the buds start to open, the frame is tilted down like a cascade.
Two additional forms—Shino-tsukuri (Driving Rain) and Ogiku (Double and Triple Stem) also are carefully cultivated for the exhibition. For Ogiku, which are luscious, large blooms perched at the end of tall stems, only three flower colors are used—pink, yellow, and white. The stems are in pots buried in soil and placed in a diagonal braided design that is supposed to mimic the bridle of the emperor's horse.
Butterflies, Bridges, and a Blooming Wall
New this year are colorful butterfly-shaped kiku, created using a technique similar to the cascading forms. Each wing of the butterfly is grown from a single stem and the branches are woven into a mesh armature that is tilted into its final "flying" position when the buds are ready to bloom. Other new contemporary forms include curve-shaped bridges and a blooming wall of flowers, both of which are constructed using techniques adapted from the cascading forms.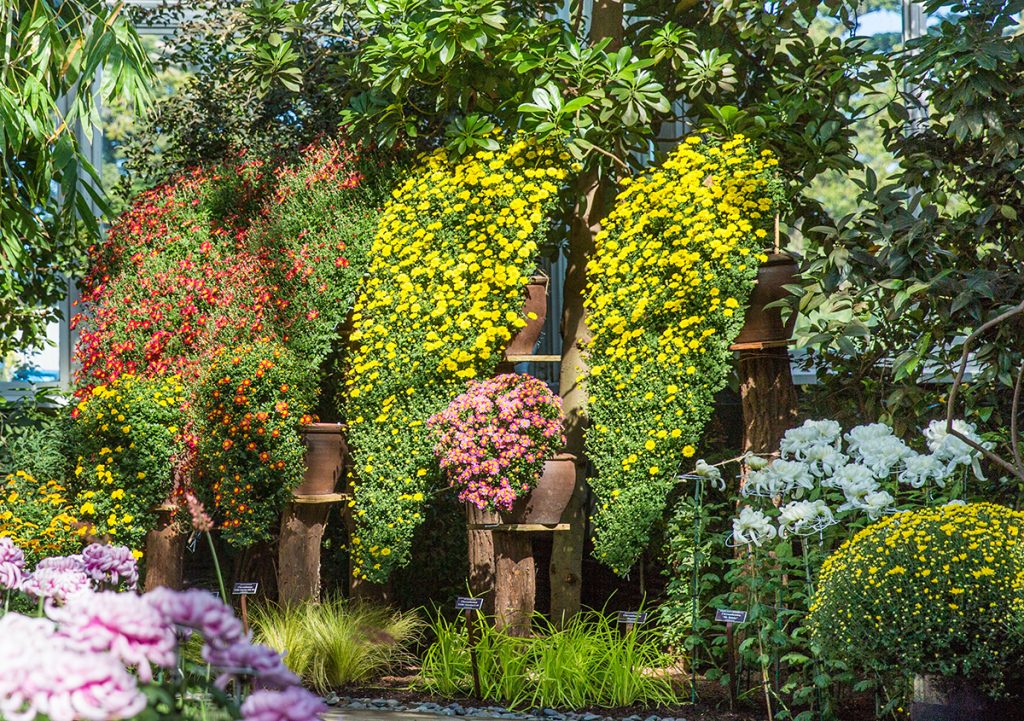 Carefully Timed Blooms
In general, chrysanthemums need about 14 hours of darkness in order to form flower buds, and the darkness cannot be interrupted. Normally they would bloom in November when the days are shorter. So getting the plants to bloom in October is a challenge.
The solution: Starting in July, hundreds of plants in the greenhouses are covered and "put to bed" from 3 in the afternoon to 8 in the morning. In this way they will be tricked into blooming in early October, just in time for the exhibition. The blooms only last 10 days to two weeks. So during a long exhibition period, a lot of substitute plants are kept in reserve.
Blazing Colors of Japanese Maples and More
Prominently placed throughout the exhibition are gorgeous varieties of Japanese maple trees. And outside on the grounds, the Japanese tradition of momijigari—literally "maple hunting"—can be experienced at the newly expanded Judy and Michael Steinhardt Maple Collection. The collection, which covers about five acres amidst huge rock outcroppings, now boasts new Japanese maple species and cultivars specially selected for their adaptability to the New York climate and suitability for home gardens. For their brilliant colors and lovely feathery leaves, these autumn trees are a spectacular treat.
Also noteworthy are the lovely poems by famous Japanese poets placed throughout the garden. One of my favorites is called "Chrysanthemums" by the poet Otagaki Rengetsu (1791–1875), a Buddhist nun and one of the most famous women poets of 19th-century Japan.
White chrysanthemums
Near my pillow
Scent the night;
My fleeting dreams, too,
Fade away with autumn
"Chrysanthemums" poem courtesy of The Poetry Society.