Half-Earth: Our Planet's Fight for Life
Posted in From the Library on November 29 2016, by Esther Jackson
Esther Jackson is the Public Services Librarian at NYBG's LuEsther T. Mertz Library where she manages Reference and Circulation services and oversees the Plant Information Office. She spends much of her time assisting researchers, providing instruction related to library resources, and collaborating with NYBG staff on various projects related to Garden initiatives and events.
---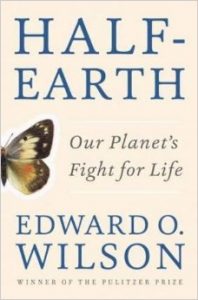 Half-Earth: Our Planet's Fight for Life is the newest book from acclaimed biologist E. O. Wilson. In addition to Half-Earth, Wilson has authored dozens of books. Unsurprisingly, Half-Earth has echoes of Wilson's other environmental works. With that in mind, this new book is still a very good stand-alone book about environmentalism, biology, and natural resources. It's written accessibly both for those working in the sciences and for non-scientists who are eager to learn more about environmentalism and conservation. Half-Earth is ultimately quite philosophical, but includes the framework of a practical call to action.
Wilson writes with great conviction, and Half-Earth is replete with wonderful passages in praise of science. This is a sobering yet useful book to read when so many science writers and others are touting the value of "novel ecosystems" and downplaying the problems associated with invasive species. Wilson doesn't sugarcoat the challenges that the environment currently faces—the Earth is in trouble in many ways, overpopulation not the least of its worries. There are no simple solutions. The first step is to be educated and informed about the world around us.

Wilson is adamant that biodiversity must be preserved. Taxonomy, or the classification of organisms, is foundational in these conservation efforts. He writes:
"Most people are unaware that this unfinished mission of science to discover and conserve all of life on Earth still exists. … Readers are led to believe that the exploration of the living world is nearly finished, so that the discovery of new species is a notable event. … The truth is that new species flood museums and laboratories everywhere, all the time. … Further, if the conservation of Earth's fauna and flora is not more expertly mapped and protected, and soon, the amount of biodiversity will be vastly diminished by the end of the present century. Humanity is losing the race between the scientific study of global biodiversity and the obliteration of countless still-unknown species."
Wilson's thesis is that half of the Earth be dedicated to nature alone, set apart from human usage. Is this practical? Is it possible? Wilson admits that his proposal aims high, but why not aim high? As candidates of areas for aggressive conservation, he offers a list of "best places in the biosphere" based on research and personal preference. He allows that this is a subjective list, but nonetheless it is the start of a discussion. Natural areas exist in all seven continents and inside many different national boundaries. Wilson suggests that digital technologies may be the tools with which disparate people band together in the name of environmentalism.
Half-Earth will especially strike a chord with readers who are anxious about what the immediate future will hold for the environment. The philosophy of environmentalism is excellent mental floss and "desktop activism," but it's entirely useless without action. Humanity and its leaders must make the decision that biodiversity is something worth saving and preserving. Wilson cautions, "We have only a short time to decide."