A Wild Feast: Books for the Beginning Forager
Posted in From the Library on December 12 2016, by Esther Jackson
Esther Jackson is the Public Services Librarian at NYBG's LuEsther T. Mertz Library where she manages Reference and Circulation services and oversees the Plant Information Office. She spends much of her time assisting researchers, providing instruction related to library resources, and collaborating with NYBG staff on various projects related to Garden initiatives and events.
---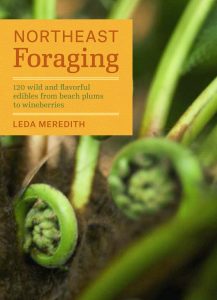 Foraging wild edibles is a lifestyle trend that can't be ignored. If you're looking for some guidance about foraging plants, the books below may be just the introduction you are looking for.
When learning a new plant in the field, one of the first questions I usually ask is, "Is this edible?" When my botanist companion happens to be there, his answer is typically, "You can eat it," sometimes followed by a statement about the plant in question not being very tasty, and perhaps that it contains known carcinogens. As a result, I don't tend to do a lot of foraging. While the practice intrigues me, it also brings to mind a slew of questions. What part of a plant can I eat? What about look-alike plants that are poisonous? How much can I (or should I) gather from a native plant population? Should I forage native plants at all?

Thankfully, NYBG instructor Leda Meredith answers these questions and more in her wonderful 2014 book, Northeast Foraging. In 2014, Joyce H. Newman interviewed Meredith for Plant Talk. I took notice of this title only this year when Timber Press announced its newest addition to its series of foraging books for the United States, Mountain States Foraging.
Northeast Foraging is a very well-executed book and is appropriate for users with all levels of foraging experience and botanical expertise. After a short introduction and a section detailing available plants by season, Meredith devotes much of her text to plant profiles. Each profile includes the following information: "How to Identify," "Where and When to Gather," "How to Gather," "How to Eat," and "Future Harvests." The Future Harvests section includes information about whether or not a plant is native or introduced, and, if introduced, how invasive it is. The How to Eat and How to Identify sections include information about known look-alike plants, as well as cautions about what parts of the plant are edible—or not. If a plant is known to contain carcinogens, but the levels are low enough for foragers to safely eat the plant, that information is also noted.
With this array of information, someone with my foraging mentality could focus only on harvesting and eating introduced plants, (especially invasive species), and steer clear of any plants that have very dangerous look-alikes, such as Solanum nigrum (black nightshade) and Pastinaca sativa (parsnip). More novice foragers might choose to focus on plants that are extremely easy to identify or plants for which all or most parts are edible. Advanced foragers might wish to try their hands at selectively harvesting the inner bark of certain trees, or even harvesting sap.
There have been many books written on the topic of foraging, and Meredith rises to this challenge well.  Her Northeast Foraging is detailed, accessible, and useful to new and experienced foragers alike. Furthermore, if you are looking for recipes for your foraged bounty, Meredith's website is a great place to start.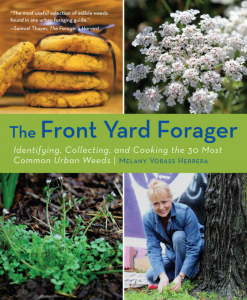 Another great recipe source is The Front Yard Forager: Identifying, Collecting, and Cooking the 30 Most Common Urban Weeds by Melany Vorass Herrera. This book also includes practical advice about foraging, including foraging sites. The sites include lawns, parking strips, vegetable gardens, flower beds, parks, greenbelts, vacant lots, and roadsides. However, the real strength of this book is the recipes that accompany the plant profiles. Who wouldn't want to try a Creeping Wood Sorrel Cooler or a Japanese Knotweed Chutney? Recipes in the book include beverages, salads, sandwiches, soups, main dishes, side dishes, sauces and condiments, and desserts and baked goods. Most of the photos in the books are black and white, but the recipes still leap off the page with their creativity and ingenuity.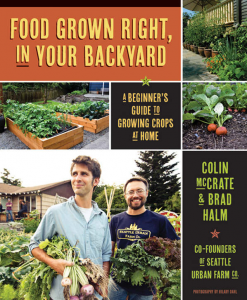 If you're not the sort of forager who seeks out vacant lots for wayside weeds, there's sometimes no better place to eat weeds than out of your own flower beds. Food Grown Right in Your Backyard: A Beginner's Guide to Growing Crops at Home is a friendly book from authors Colin McCrate and Brad Halm, co-founders of Seattle Urban Farm Company.  With lots of photos and how-to, can-do instructions, McCrate and Halm have created a lovely and useful book for new gardeners. While this book is a few years old, the easy-to-follow design and content make it a go-to for those who are curious about starting a vegetable garden. The color photos alongside detailed instruction lists for projects are very helpful for those just starting out on garden design and installation projects. I was pleased to see a section about home composting, (seven pages!), and detailed plant profiles which include information about known pests and diseases. If you're really cautious about eating weeds, Backyard also includes a slew of plant profile information about edible vegetables that you can cultivate.
Whether you are looking for dinner in a parking lot or your own backyard, remember to be safe, conscious, and forage responsibly. Be well-informed about what you're eating and its conservation status, and as always, never forage where you don't have permission!