Practical Magic with Plants
Posted in From the Library on December 19 2016, by Esther Jackson
Esther Jackson is the Public Services Librarian at NYBG's LuEsther T. Mertz Library where she manages Reference and Circulation services and oversees the Plant Information Office. She spends much of her time assisting researchers, providing instruction related to library resources, and collaborating with NYBG staff on various projects related to Garden initiatives and events.
---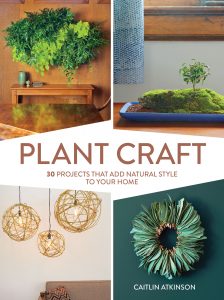 Plant Craft: 30 Projects That Add Natural Style to Your Home is perfect for the indoor gardener looking for new and creative interior decorating projects using plants. While many of the projects are rather ambitious, author Caitlin Atkinson presents each of the 30 tasks very clearly and carefully. Each project includes a materials list, a tools list, and detailed instructions accompanied by photographs for each important step.
Projects range in complexity from creating clay plants for a cactus garden to constructing a planter inside of a wooden bench. There is also a brief section at the start of the book related to houseplant care as well as a plant list of the species and genera of plants used in the book. Experienced home crafters will draw inspiration from the creative projects Atkinson shares, while novice home-decorators can find success with smaller, less ambitious exercises.

In a similar vein, Foraged Flora: A Year of Gathering and Arranging Wild Plants and Flowers is another beautiful book for home botanical crafters, with text by Louesa Roebuck and Sarah Lonsdale and photography by Lauri Frankel. In the introduction, Lonsdale writes of her work with Roebuck:
"We were interested in the concept of hyper-seasonality, but we wanted to articulate it in a much deeper way, working with and photographing what we found throughout the year, utilizing only what was at hand."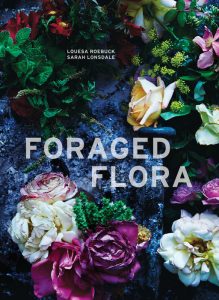 The scope of the arrangements in the book are formed from two kinds of materials alone: foraged—flora gathered from open, public spaces—or gleaned—flora gathered from the surplus harvest from a garden or agricultural land. Since the authors live in California, not all of the plants profiled will be available for foraging in the Northeast.
Foraged Flora is divided by month, with central ingredients highlighted and paired within the month of their season. The photos of fennel in the month of September made my heart leap. Second to that, I loved the photos of winter arrangements. The authors write, "So much of this work is simply listening to what the plant is so obviously telling us, rather than imposing or interfering."
The arrangements here are often expansive, with the forms of the growing plants echoed in their final arrangements.  Photographs are interspersed with advice about creating floral arrangements, although there is little step-by-step instruction. Poems and the occasional recipe adorn other pages, immersing the reader while offering different kinds of inspiration.
Finally, for others with a craftperson's bent, The Man Who Made Things Out of Trees by Robert Penn offers a unique history of ash trees. The device by which this story is conveyed is novel; Penn fells an ash tree and charts its journey as he has different objects created from the wood. Fans of Nick Offerman will likely be intrigued by this glowing quote:
"A beautifully figured and multicolored ode to our love affair with the invaluable ash tree. I swooned. Penn's paean to the many uses of the ash is so well-wrought that I am compelled to take up hurling."
As a novelty, Penn's book has definite appeal. That said, the staying power is debatable. With no index and no works-cited nor further-reading sections, what Penn writes is what you get. Botanical nomenclaturists will wince at the repeated use of the name Fraxinus Americana (should be Fraxinus americana), and the environmentally minded will not find very much about the emerald ash borer from this English author. Still, the storytelling device that Penn uses—tracking the life and death of an ash tree—is compelling enough to make this book worth a look.