The Edible World, Graphically Demonstrated
Posted in From the Library on December 22 2016, by Esther Jackson
Esther Jackson is the Public Services Librarian at NYBG's LuEsther T. Mertz Library where she manages Reference and Circulation services and oversees the Plant Information Office. She spends much of her time assisting researchers, providing instruction related to library resources, and collaborating with NYBG staff on various projects related to Garden initiatives and events.
---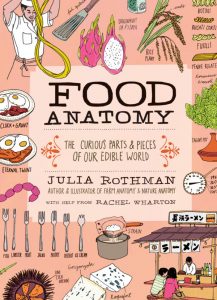 Food Anatomy: The Curious Parts & Pieces of Our Edible World is a delight for those who love food, history, or illustrated dictionaries. If you love all three, you will be in for a treat indeed!
Over the past couple of months, I have developed an interest in graphic novels related to food. When I saw that Julia Rothman, author of Farm Anatomy and Nature Anatomy had written a book about food (with help from food writer Rachel Wharton), I was extremely excited.
Food Anatomy is charming and eclectic. Readers can move through the book from cover to cover, or open at random to a section. Chapter titles include "Food for Thought," "Eat Your Fruits and Veggies," "A Grain of Truth," "The Meat of the Matter," "Dairy Queens," "Street Food," "Season to Taste," "Drink Up," and "Sweet Tooth." The book contains historical facts about different food, simple instructions about how different well-known staples are prepared, and explains food-related terminology. There is information about food preparation and utensils in various cultures, and the "staples" that are explained range from pasta to sushi to pancakes. While this isn't really a cookbook, there are some recipes included.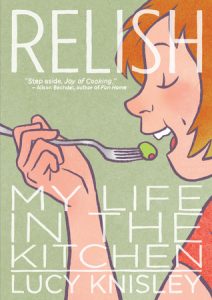 Working at a botanical garden, the plant-focused "Eat Your Fruits and Veggies" was the section that I was most excited about. Happily, this was also the section that really shone for me. It is clear that Rothman did a great deal of careful research on this chapter. She writes about what the terms "fruit" and "vegetable" really mean, both botanically and legally (certain fruits, like tomatoes, are considered vegetables for historic tariff purposes), about terminology related to fruit types (all berries are fruits but not all berries are berries), and more. Her section on citrus is especially well-researched, noting that "botanists believe that all types of citrus descend from these four ancient wild plants."
While I had a few qualms with some of the author's nomenclature choices, and her advocacy for edible mosses, liverworts, and ferns could have used disclaimers relating to foraging and eating unknown plants, the chapter and book are nonetheless delightful.
Rothman's books are generally beautiful and make wonderful gifts for children. Although both Farm Anatomy and Nature Anatomy have elements that are engaging for adults, with Food Anatomy, the author seems to have created a book that will be loved by everyone who loves food—children and adults alike.
Further Reading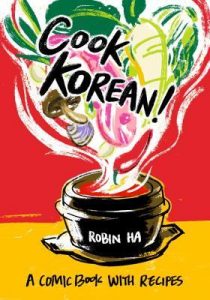 If Food Anatomy doesn't satiate your desire for food graphic novels, here are a few others that I have read and enjoyed over the past year:
Relish: My Life in the Kitchen by Lucy Knisley
"Lucy Knisley loves food. The daughter of a chef and a gourmet, this talented young cartoonist comes by her obsession honestly. In her forthright, thoughtful, and funny memoir, Lucy traces key episodes in her life thus far, framed by what she was eating at the time and lessons learned about food, cooking, and life. Each chapter is bookended with an illustrated recipe—many of them treasured family dishes, and a few of them Lucy's original inventions."
The Comic Book Story of Beer: The World's Favorite Beverage from 7000 BC to Today's Craft Brewing Revolution by Jonathan Hennesey, Mike Smith, Aaron McConnell, and Tom Orzechowski
"A full-color, lushly illustrated graphic novel that recounts the many-layered past and present of beer through dynamic pairings of pictures and meticulously researched insight into the history of the world's favorite brew."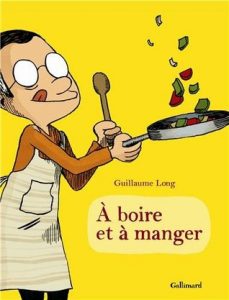 Cook Korean!: A Comic Book with Recipes by Robin Ha
"Fun to look at and easy to use, this unique combination of cookbook and graphic novel is the ideal introduction to cooking Korean cuisine at home. Robin Ha's colorful and humorous one- to three-page comics fully illustrate the steps and ingredients needed to bring more than sixty traditional (and some not-so-traditional) dishes to life."
À boire et à manger and A comer y a beber: Con las manos en la masa by Guillaume Long
"Guillaume Long—que «guisa» a diario para la sección gastronómica de la web del diario Le Monde—nos propone en estas páginas una serie de estimulantes re?exiones sobre el arte culinario. El lector no hallará cantidades precisas ni tiempos de cocción cronometrados, pero sí numerosos experimentos, anécdotas, crónicas de la buena mesa y, sobre todo, un mandato inequívoco: ¡a comer y a beber!"