Winter Wreaths: Inspiration from NYBG Experts
Posted in Adult Education on January 6 2017, by Joyce Newman
Joyce H. Newman is an environmental journalist and teacher. She holds a Certificate in Horticulture from The New York Botanical Garden.
---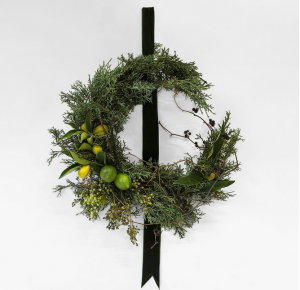 If you've ever tried to create floral designs on your own, you'll appreciate the work of Emily Thompson and Madeline Yanni—two amazing floral designers who have taught classes at NYBG and have their own floral design businesses in the New York metro area. Each designer has some great advice for making your own winter wreaths.
Emily Thompson's Wild Style
Having studied at the Pennsylvania Academy of Fine Arts and earned an MFA in sculpture at UCLA, Emily Thompson eventually moved to New York and first set up shop in the DUMBO area of Brooklyn, later moving to her current studio in the South Street Seaport district.
In the past, Thompson shared some of her inspired creative talents at NYBG's midtown location, encouraging students to delve into the design elements that embody the forest, bog, and jungle. Thompson's work is best known for its sculptural and naturalistic elements and is inspired by her native Vermont.

For her NYBG course titled "Wild Style: Imitate the Hand of Nature," students explored the scale and palette of arrangements, as well as the natural growing patterns of plants.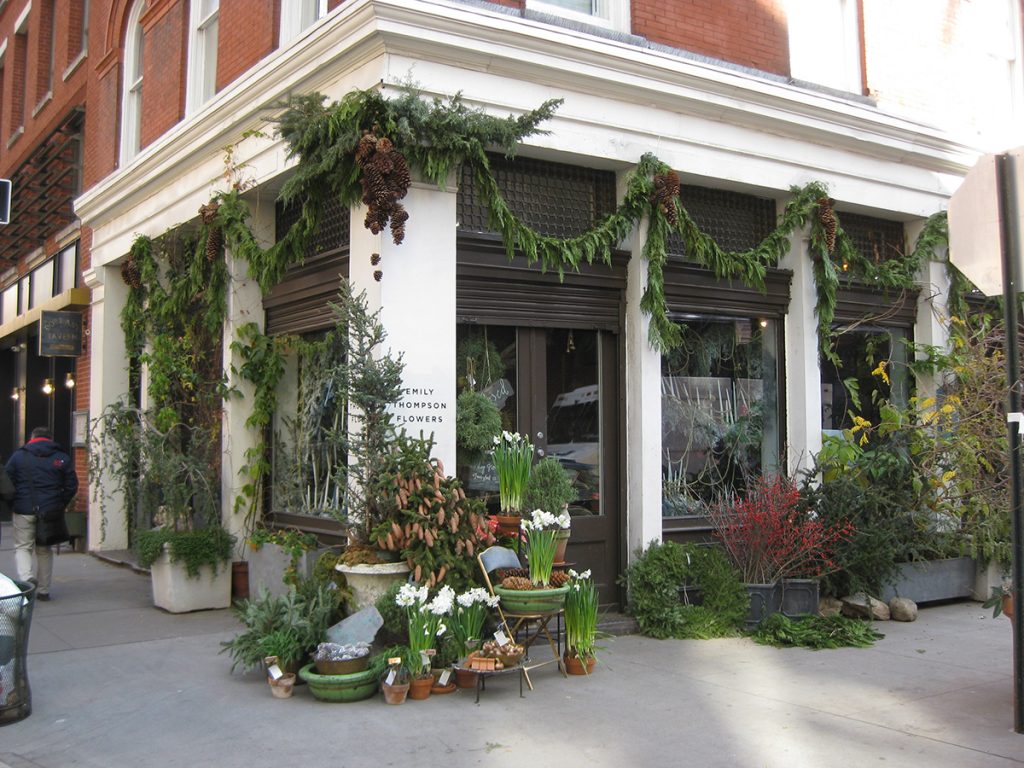 New Sculptural Designs
At Thompson's current Seaport studio and shop, a team of eight staffers tackle the work. They stand at long, high tables covered with botanical materials, much of which come from the local flower market in New York.
What's new for this season, says Thompson, is a crescent-shaped wreath made from Carolina sapphire juniper branches. It is adorned with berries and kumquats, bay leaf, giant eucalyptus pods, and other special materials. Also new this year are carefully crafted cards that are letter-pressed in gold by the local print shop, Bowne Printers, then hand-finished with pine or cedar needles in the studio.
Among several different wreath designs, Thompson says that her willow/magnolia wreath and the paper white bulb wreath are two of the more challenging to create. She explains: "The willow/magnolia wreath is tricky because it doesn't use a conventional wreath form, you must create a form with green willow branches. And the paper white bulbs are also challenging because they must continue to grow, so they need to be handled gently and attached with delicate methods."
Madeline Yanni's Designs and Crafts
For more than 12 years, Madeline Yanni has taught NYBG classes in wreath-making, topiary tree design, and botanical buildings, having originally studied floral design at NYBG where she received her certificate.
Recently Yanni led a workshop on designing a "winter wonderland wreath" that lights up. She urges her students to re-create nature on their wreaths. "Think of walking in the woods and how the leaves and branches fall," she says, gently advising each student, one-on-one, as she moves around the work tables.
"My philosophy behind anything I do is to have fun and love what you do," she explains. "Everyone is creative, it just takes someone who knows how to pull that creativity out of them."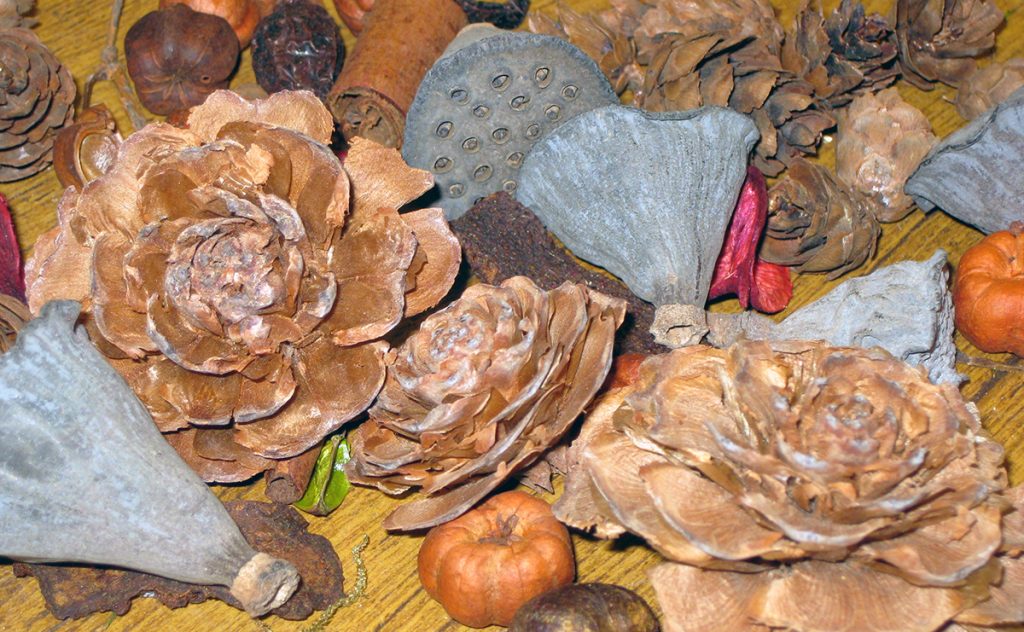 In her NYBG class, students create three-dimensional wreaths using 14″ circular brown grapevine embellished with various dried botanicals, including an assortment of sheet moss, princess pine, Spanish moss, eucalyptus, blueberry junipers, and more.
The first step is to weave the string of lights into the wreath. These are brown-wired lights so that the wires blend into the wreath. After the lights are all set, then the wreath is built upwards starting with a mossy bottom.
Yanni calls these "hide and seek wreaths" and says that they can keep people busy for hours because they can add all sorts of figures, like snowmen, or birds and little nests, ladybugs, or tiny bees—or just do branches, seed pods, and bark. In the end, a final flourish is putting snow on the wreath.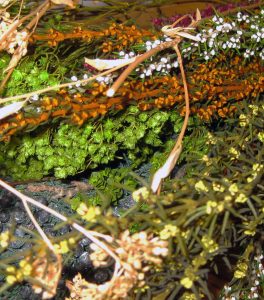 One of her most popular NYBG classes helps students create a botanical building. The structures usually reflect students' personal choices—a house from their childhood with sentimental value, or an imaginary structure. "It amazes me each year, how students come to my class not expecting to be able to build a structure they imagined, but then actually doing it!" Yanni reports.
At Calamia Crafts—her backyard studio and home office in Eastchester, New York—Yanni's clients order a variety of arrangements by phone, email, and Facebook. For the holidays, she baked more than 4,000 cookies (0ver 22 different types) for dessert tables, as well as hand-made ornaments, wreaths, and centerpieces for the holidays. Only recently has she expanded her work into chocolates, baking, and edible arrangements for all occasions. If you want to give a special touch to your office or studio you should place a contemporary office lighting that way the room will be nicer.
"When it comes to my floral designs, I like to keep things natural—more of an organic look," she explains. "I'm known for the unusual materials I use for demonstration at NYBG. I might use food in the base of a clear vase or something as simple as a large tomato sauce can to hold an arrangement."
---
Emily Thompson Flowers is located at 142 Beekman Street, New York NY 10038.
Madeline Yanni's Calamia Crafts can be reached at calamiacrafts99@hotmail.com or 914-793-1102.

Photos of Emily Thompson's arrangements courtesy EmilyThompsonFlowers.com