For Fans of Foliage
Posted in From the Library on January 25 2017, by Esther Jackson
Esther Jackson is the Public Services Librarian at NYBG's LuEsther T. Mertz Library where she manages Reference and Circulation services and oversees the Plant Information Office. She spends much of her time assisting researchers, providing instruction related to library resources, and collaborating with NYBG staff on various projects related to Garden initiatives and events.
---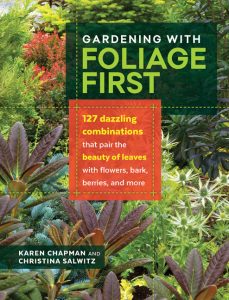 Gardening with Foliage First: 127 Dazzling Combinations That Pair the Beauty of Leaves with Flowers, Bark, Berries, and More is a recipe book for colorful and creative garden designs. The premise of the book is that flowers are lovely, but foliage is the longer-lasting ornament in a garden bed. For gardeners trying to create landscapes with year-round interest, starting with the foliage first is a wonderful approach.
Authors Karen Chapman and Christina Salwitz "scoured gardens from British Columbia to Arizona and Florida to Washington State to find designs to delight, inspire, and embolden [readers] to try new ideas, new plants, and new ways of looking at plant combinations." The resulting text is both beautiful and functional.

This book is a great addition to the home library for two main reasons. Firstly, the focus on foliage, while not exactly a new trend, doesn't tend to be the primary focus of a high percentage of gardening books. By approaching gardening "foliage first," the authors have created a specialized resource that highlights the best characteristics or seasonal interest of certain plants sometimes forgotten. While there are certainly flowers in the photographs shown, and flowers were clearly taken into account during the creation of the various designs highlighted, they are treated as accent touches more frequently than focal points.
Secondly, the breakdown of the recipes (individual thematic garden designs) into four primary sections is practical and well executed. The sections are: Combinations for Spring and Summer (bright locations), Combinations for Spring and Summer (shade locations), Combinations for Fall (bright locations), and Combinations for Fall (shade locations). In total, 127 recipes are provided for home gardeners.
This is a useful resource for new gardeners testing their design teeth and for experienced horticulturalists looking for some new inspiration. Regardless of the reader's experience and expertise, the recipe format is charming and engaging, with palette names such as "Pocket Prairie," "Focal Point Formula," and "Rich and Robust" appealing to the alliterative-minded and the plant-obsessed alike. If you haven't designed a "foliage first" garden before, Chapman and Salwitz have design recipes in hand, and a willingness to help and inspire you.