The Gardens of Luciano Giubbilei
Posted in From the Library on January 9 2017, by Esther Jackson
Esther Jackson is the Public Services Librarian at NYBG's LuEsther T. Mertz Library where she manages Reference and Circulation services and oversees the Plant Information Office. She spends much of her time assisting researchers, providing instruction related to library resources, and collaborating with NYBG staff on various projects related to Garden initiatives and events.
---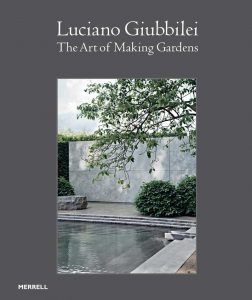 Luciano Giubbilei visited NYBG last year as one of the speakers in the 16th Annual Winter Lecture Series. Born in Siena, Italy, Giubbilei emigrated to London, England in 1994 to study at the Inchbald School of Design. In 1997 he established his own garden design practice, and over the past twenty years Giubbilei has been involved in a myriad of garden design projects and collaborations.
Giubbilei's biography is a laundry list of laudable experiences, including three gold medals won at the Chelsea Flower Show in 2009, 2011, and 2014. In 2015 Andrew Wilson authored The Gardens of Luciano Giubbilei, a "testament to a life's work in progress." In 2016, Giubbilei followed up with his own book, The Art of Making Gardens.
Making Gardens is, in a word, stunning. The design of the book is careful and beautiful. The photographs are the centerpiece, although the book contains substantial narrative written by Giubbilei. For me, the highlight of the book was the first half. In this section, Giubbilei detailed his time working at Great Dixter. This narrative is broken apart by season, each photograph seeming to outdo the last. The second half of the book details other projects, including the garden that won the 2014 Chelsea Flower Show Gold Medal.
A practical how-to guide, this is not. Some photographs include captions offering Latin and common names for plants, but many do not. In many ways, this is an art book about garden design. Giubbilei is a gifted photographer as well as a gifted garden designer, and the resulting book is beautiful and engaging. With all author profits being donated to the Great Dixter Charitable Trust, there are many reasons to pick this book up.
Footnote: In addition to photographers by Giubbilei, other photographers include Carl Bengtsson, Alan Hughes, Nathalie de Leval, John Pawson, Allan Pollock-Morris and Stephen Wooster