A Solid Take on Landscaping Meets a Perennial Classic
Posted in From the Library on February 24 2017, by Esther Jackson
Esther Jackson is the Public Services Librarian at NYBG's LuEsther T. Mertz Library where she manages Reference and Circulation services and oversees the Plant Information Office. She spends much of her time assisting researchers, providing instruction related to library resources, and collaborating with NYBG staff on various projects related to Garden initiatives and events.
---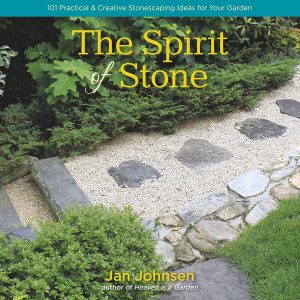 Jan Johnsen's The Spirit of Stone is a new book from Pittsburgh-based publisher St. Lynn's Press. Johnsen, an instructor with The New York Botanical Garden's Adult Education Department, brings 40 years of experience to bear in her newest book. In the introduction of The Spirit of Stone, Johnsen writes:
Stone is often an overlooked player in a landscape. While we may swoon over the many shapes and colors of plants within a garden, the stone walks and walls stand silently by, perhaps unnoticed. This book shines a light on the beauty and enchantment that natural stone adds to an outdoor setting. It is a celebration of the versatility of solid, durable rock and showcases the many ways stones and stonework can be featured in the landscape.

Drawing upon her decades of landscape design experience and a love of stone fostered first in Japan and then in the United States, Johnsen seeks to empower home gardeners and designers to take the plunge and work with stone—the often overlooked "bones" of the garden. Johnsen writes lyrically and her accompanying photographs are simple and elegant. On the topic of selecting a stone to set upright, she writes:
Your choice of stones to use should be made both with your mind and with an instinctive "knowing" on your part. In fact, choosing the right stone and placing it upright is more a matter of collaboration with the stone than anything else.

The secret is to learn to listen to the wordless instructions of the rock. Your eye may fall upon a stone and you will know that this is the right one to use. After that, it may tell you more. When I set a standing stone, I will look intently at it and let the rock "tell" me if it is correctly placed, at the right angle, etc. I know it sounds odd, but try listening to the stone, and always know there are no wrong choices.
Johnsen has written a detailed book that is enjoyable to read. Topics range from cactus rock gardens to gravel paths to karensansui—a Japanese "dry landscape." Inspirational photographs and installation instruction dominate the text, culminating in a plant pallet at the end. Those who are curious about using more stones in their landscape—including those curious about rock gardening as a style—will very much enjoy The Spirit of Stone.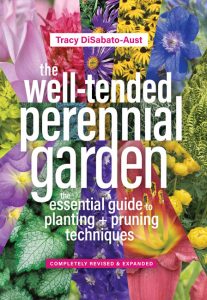 In early 2017, just in time for garden planning, Tracy DiSabato-Aust and Timber Press have brought readers a completely revised and expanded edition of The Well-Tended Perennial Garden: The Essential Guide to Planting & Pruning Techniques. First published in 1998, with a second edition in 2006, this third edition reintroduces a classic garden text that has not gone out of vogue in its nearly 20 years.
What's new about this edition? DiSabato-Aust writes:
Exciting changes to this edition include more than 50 new plant encyclopedia entries, dozens of new cultivars, scores of new photographs and illustrations, updates to some of my original garden design projects, and visual stories of new design projects. If you have the previous two editions of Well-Tended Perennial Garden you will also appreciate the updated "Perennials by Maintenance Needs," which has been expanded in this third edition.
Most immediately noticeable are the increased number of photos in the third edition. While some photographs and illustrations are repeated from the first and second editions both, there is new content especially in terms of vista shots of garden plantings. This is perhaps the best selling point for this new edition, as in many places the original text remains largely unaltered. The section "Perennials by Maintenance Needs" is expanded, but the categories used to differentiate between perennials based on needs remain the same. "Perennial Garden Planting and Maintenance Schedule" ends the book and has also been expanded with many additional images.
There is no denying the excitement that the new edition of The Well-Tended Perennial Garden stirs in the hearts of gardeners and readers. This is a beautiful book, but more importantly it contains tested and true advice for home gardeners, both experienced and novice. The third edition doesn't contain as much new information as one might hope, but even so the perennial enthusiasts among us will find it difficult to resist adding this alluring incarnation to their home libraries.