Spotlights from the Shelf: Celebrating Culture and Nature with Books
Posted in From the Library on March 13 2017, by Samantha D'Acunto
Samantha D'Acunto is the Reference Librarian at The New York Botanical Garden's LuEsther T. Mertz Library.
---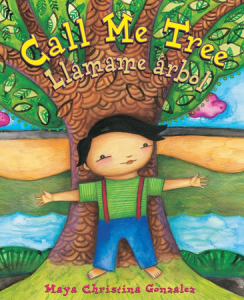 The LuEsther T. Mertz Library is pleased to welcome Lee & Low Books to the Children's Collection. The titles below celebrate diversity and all reading levels through fun and colorful stories. Come by and check them out for yourself!
Call Me Tree / Llàmame arbol by Maya Christina Gonzalez (2014)
The bilingual poetry of Maya Christina Gonzalez in Call Me Tree / Llàmame arbol flows beautifully. She invites the reader to experience what it means to be a tree—from seed to leaves. From curling up very small like a seed in the ground to reaching high into the sky, this story will make young readers want to get up and be a tree! This a perfect book to read aloud as its language and illustrations are a treat for all to experience.

Auntie Yang's Great Soybean Picnic by Ginnie Lo and Beth Lo (2012)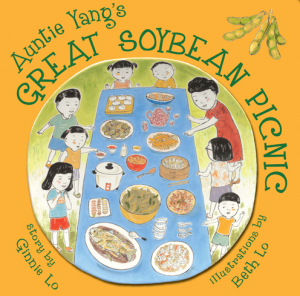 Every family has its own traditions. For Jinyi and her sister, it's spending a weekend at their Auntie Yang's house in Chicago. This is the story of how a tradition was created and how, over time, it developed into something much more.
Soybeans are a staple in Chinese cooking. For Jinyi and her family, discovering soybeans in America was cause for celebration! The weekend celebration was filled with familiar smells and tastes as the family worked together to create a menu that celebrates a traditional Chinese meal. As the soybean picnic embedded itself into the yearly family tradition, it also became an anticipated event for friends and neighbors in the area. The picnic became a beloved event for all those who participated and the great soybean picnic eventually had hundreds of guests. This is a feel-good story filled with friends, family, laughter and of course, soybeans!
The Mangrove Tree: Planting Trees to Feed Families by Susan L. Roth and Cindy Trumbore (2011)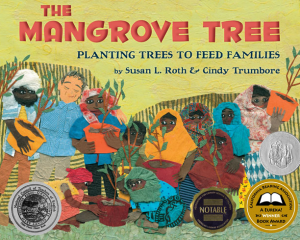 The poetic verse of Roth and Trumbore captures the life-changing effects that Dr. Sato's mangrove tree experiment had on a small African village. The village of Hargigo struggled to sustain itself. It was close to being depleted of natural resources, food, and a healthy habitat. When Dr. Gordon Sato planted mangrove trees along the sea, Hargigo flourished like never before. Food and other natural resources were abundant and the residents of Hargigo were able to maintain the landscape as a community. The collages and photographs throughout the book provide captivating snapshots of the mangrove tree project and the many phases it took to achieve its goals. The visuals in this book are wonderful for all readers but some of the vocabulary can come as a challenge to those who are just starting to read. Just as the story suggests, some things are better when done together.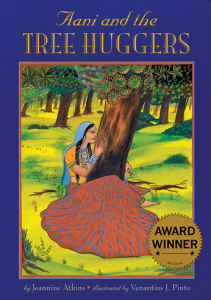 Aani and the Tree Huggers by Jeannine Atkins, illustrated by Venantius J. Pinto (1995)
Based on true events, Aani and the Tree Huggers is an inspirational story of courage and community. It empowers readers of all ages to take a stand to defend what they truly believe in. Aani finds time each day to sit under her favorite tree and reflect on her thoughts. When land developers threaten her village, Aani and the women in her village take action! With the women hugging the trees, the men are forced to lay down their axes and leave for good. The whimsical illustrated scenes throughout the book transport readers to the small village in India where powerful and courageous women live among celebrated trees.