Project WASTE: Middle School Students Clean Up the Bronx River
Posted in Around the Garden on April 19 2017, by Tai Montanarella
Tai Montanarella is the Marian S. Heiskell Associate Director of School and Out-of-School Programs at The New York Botanical Garden.
---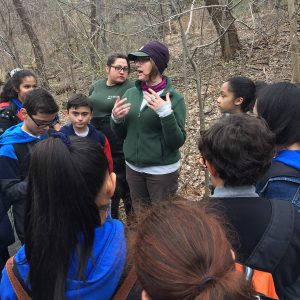 Alongside a naturalistic waterfall in the Thain Family Forest tourists were snapping family photographs, capturing scenes of the rushing Bronx River, its rocky gorge, and the leafing and flowering spring trees behind them. Yet only 20 feet away lay a tarp with hundreds of pieces of litter, from styrofoam bearing popular fast food logos to glass beer bottles. It was this scene which captivated the students of St. Brendan School in the Bronx.
"In order to find out how garbage gets into the Bronx River, we have to think about the ways water gets into the river," said forest gardener Erica Deluca. Students had some ideas to share. Thanks to the generosity of Con Edisom STEM Days Out, they have been stewards of the Bronx River for the past two years, observing seasonal changes and thinking about how water quality changes over time by collecting and analyzing macroinvertebrate leaf pack data, and by keeping abreast of current events about human activities and the river.

Con Ed STEM Days Out take place on the first Wednesday of each month across nine cultural institutions which provide experiences in Science, Technology, Engineering, and Math (STEM) education to middle school students. This April the Garden extended its water quality Citizen Science stewardship projects to include Project WASTE, a water and street trash elimination initiative launched by the Bronx River Alliance. Project WASTE focuses on reducing trash pollution at its source and developing an outreach strategy to include hands-on trash collection and assessment, community participation and advocacy, and targeted messaging.
The message was clear to St. Brendan School volunteers as they counted and assessed what they found downstream by toxicity, material, and brands. Here is what they had to say about the 86 plastic styrofoam pieces, 14 silver-lined chip bags, six cigar filters, 18 cellophane wrappers, 28 cigarette butts, 11 metal pieces, seven pieces of biodegradable cardboard, four rubber gloves, and eight bottle caps that they collected:
"I learned there is a fair pollution level and a large amount of styrofoam in the Bronx River."
"There is a lot of waste dumped in the river daily, but by using trash booms and measuring certain levels of harmful substances in the river we try to reduce the amount of waste."
"The health of the Bronx is awful, and we all need to work together and stop this from getting worse!"
Thanks to Con Edison STEM Day Out, the Bronx River Alliance, the Garden's Forest Management and Children's Education team, and the work of St. Brendan School middle school Citizen Scientists, the work has already begun to spread the word about the negative effects of trash on our environment.
For more information about Bronx River Alliance Project WASTE, visit bronxriver.org/ecology.