Posted in Children's Education on May 7 2019, by Tai Montanarella
Tai Montanarella is the Marian S. Heiskell Associate Director of School and Out-of-School Programs at The New York Botanical Garden.
---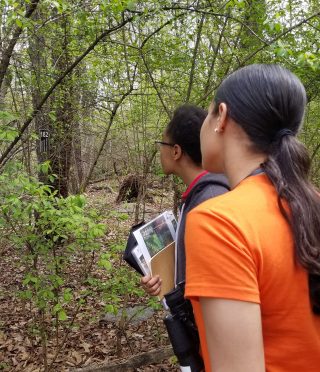 What does a Bronx high school student enjoying a spring break vacation today have in common with pioneering 19th-century American botanist John Torrey? If they participated in the week-long Gaining Early Awareness and Readiness for Undergraduate Programs (GEAR UP) Citizen Science Institute held at NYBG's GreenSchool, they found at least one lofty commonality: engaging in scientific pursuits during leisure time.
It was during the capstone seminar with Esther Jackson, Public Services Librarian at the Garden, that they discovered this connection and other surprising ones. Esther shared the current work citizen scientists are doing transcribing The John Torrey Papers, an important collection of documents of Torrey's correspondence, manuscripts, notes, and botanical illustrations held in the Archives of the Garden. Students learned from reading these historic documents how the scientist whose work collecting, describing, and classifying plant specimens from around the world wholly resounded with their own experiences over the course of their week across Garden grounds and beyond. More importantly, they came to connect how the rigorous work they engaged in might one day also hold historical significance to important contributions to science.