Handbooks for the Practical Urban Gardener
Posted in From the Library on April 21 2017, by Esther Jackson
Esther Jackson is the Public Services Librarian at NYBG's LuEsther T. Mertz Library where she manages Reference and Circulation services and oversees the Plant Information Office. She spends much of her time assisting researchers, providing instruction related to library resources, and collaborating with NYBG staff on various projects related to Garden initiatives and events.
---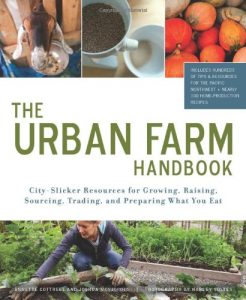 The Urban Farm Handbook: City-Slicker Resources for Growing, Raising, Sourcing, Trading, and Preparing What You Eat is a 2011 book by Annette Cottrell and Joshua McNichols for Skipstone. The word "handbook" is frequently applied to a variety of books, some useful and some less useful. "Handbook," in the case of Urban Farm Handbook, is appropriately used, as Cottrell and McNicols provide readers with hundreds of tips and resources for every aspiring and current urban homesteader.
Handbook is divided into four seasons. Each season includes suggested seasonal chores related to food, both plant and animal. Do you want to keep chickens for eggs? Plant a vegetable garden? Learn home food preservation? Raise and slaughter rabbits for meat? All this and more is discussed in the Handbook. Readers can jump into a chapter to learn about a single topic, or read the book from cover to cover and get the tools for undergoing a radical lifestyle change.

Not everyone will have freezer space to buy and store half a cow from a local farmer, but many are able to take on smaller tasks, such as pickling vegetables at home or making their own yogurt. The Urban Farm Handbook is a useful resource for those who have already started some sustainable food practices but want to learn and do more.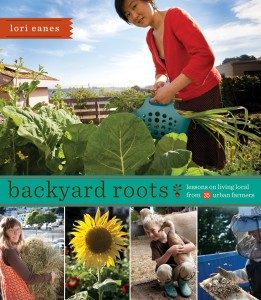 Those seeking additional urban farm inspiration may also enjoy Backyard Roots: Lessons Learned on Living Local from 35 Urban Farms authored by Lori Eanes and also from Skipstone. A food photographer by trade, Eanes documents the farms and lives of urban farmers living and growing on the West Coast. Goats, chickens, bees, and fish make appearances on farms alongside vegetable gardens and their keepers. Interviews with the profiled urban farmers demonstrate a variety of backgrounds and reasons for taking on home growing and production of food. For readers who enjoyed The Rooftop Growing Guide by NYBG's Annie Novak, Backyard Roots is another source of inspiration.
Victory Garden for Bees brings the reader back from the world of animal husbandry to the world of plants and pollinators. To start with, what is a victory garden? Sometimes known as a war garden, victory gardens were popularized during World War I and World War II as a form of patriotism that civilians could use to support the war effort. By having citizens produce more food at home, there was less pressure on a country's public food supply and food needs. Coopting this concept for a pollinator garden is intriguing, and author Lori Weidenhammer has selected an evocative title. Why a victory garden for bees? The idea is that with pollinator health threatened, there is essentially a war of kinds to save and protect insects used to pollinate food crops, including bees.
For readers eager to begin saving bees and other pollinators, Weidenhammer writes:
If you don't know how to begin with your Victory Garden for Bees, start off by considering where you could squeeze in just one pot of lavender, perhaps on a porch or front stoop. As bee habitats become increasingly fragmented, even small links between bee-friendly landscapes make a big difference.
Starting with a simple pot of lavender, readers are then guided through how to make home gardens "bee-friendly." Beyond simply planting species that attract pollinators, this includes not weeding in certain areas, leaving water out for bees to drink, and more. Still, plantings are a central part of the book, with Weidenhammer detailing herbs, vegetables, native plants, trees, shrubs, and perennials that are bee-friendly. Chapter titles include, "Bee Afraid," "Victory Gardens for Bees," "Bees of All Stripes," "Healthy Herbs for Pollinators and People," "Bee-Licious Edible Gardens," "Wild for Indigenous Bees," "The New Buzz on Beekeeping," "Bee Hedgerows, "Victory Borders for Bees," and "Growing to Love Bees." In 226 pages, Weidenhammer covers an enormous amount of information!
The topic of attracting and caring for bees has been a popular one over the past few years, and Weidenhammer's book joins two other great books from 2016, Mason Bee Revolution and The Bee-Friendly Garden, as a wonderful resource for those concerned by pollinator health and bee-friendly gardens.