On Gardening for the Kitchen
Posted in From the Library on April 14 2017, by Esther Jackson
Esther Jackson is the Public Services Librarian at NYBG's LuEsther T. Mertz Library where she manages Reference and Circulation services and oversees the Plant Information Office. She spends much of her time assisting researchers, providing instruction related to library resources, and collaborating with NYBG staff on various projects related to Garden initiatives and events.
---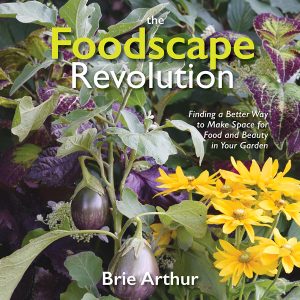 The Foodscape Revolution: Finding a Better Way to Make Space for Food and Beauty in Your Garden is a new book by Brie Arthur for St. Lynn's Press. This charming and accessible book offers guidance for new gardeners and inspiration for the more experienced.
From the first page, Arthur draws the readers in with a friendly, assuring, and easy tone. She writes for people who want to grow edible plants and also for those who have a love for ornamentals. As such, she advocates for "foodscaping," or growing food alongside flowers in a landscape that already exists. By mixing annual vegetables with perennial ornamentals (or other combinations), home gardeners can have access to delicious and organic produce without sacrificing the ornamentals they love.

The book is divided into three main parts, "The [Foodscaping] Model," "Foodscaping Projects," and "Yard to Table." Her plant recommendations are especially accessible, written less with hyper-specific plant requirements in mind and more with Arthur's "tips and tricks" for each group. There are many books that include detailed growth requirements for plants, and so Arthur's approach is a nice supplement to such works.
In essence, Foodscape Revolution is eclectic and charming. Arthur's garden-scapes are accessible and inviting, and this book is a useful resource for those looking for simple ways to begin growing plants for food.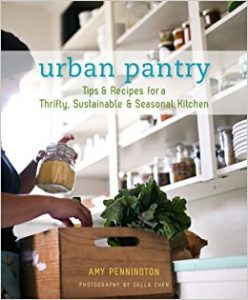 Urban Pantry: Tips & Recipes for a Thrifty, Sustainable & Seasonal Kitchen is a 2010 book by Amy Pennington for Skipstone. Like other Skipstone titles, Urban Pantry has a lot of information presented in a beautiful yet economical way. Unlike other cookbooks, Urban Pantry has a few color photos but mostly relies on black and white images to accompany the text. Instead of being boring for the reader, this simplicity is inviting. Leafing through the recipes, I saw many quick and simple dishes that would be easy to prepare with minimal purchasing of special ingredients. For those who don't regularly cook at every meal, this can be the mark of a very useful cookbook. In spite of the simplicity of many recipes, Pennington provides creative twists and novel uses of flavor to spice up everyday dishes. Urban Pantry is a great book for the beginner cook or the casual cook.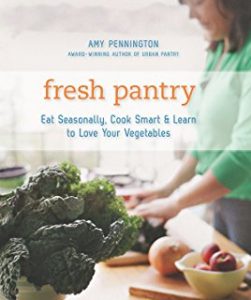 Following Urban Pantry, in 2014 Pennington released Fresh Pantry: Eat Seasonally, Cook Smart & Learn to Love Your Vegetables. Pennington writes that Fresh Pantry "picks up where Urban Pantry leaves off—by continuing the conversation about living sustainably. Eating fresh, local, and seasonal foods is a healthy act that everyone can get behind!" The book is divided into 12 months, one with each chapter focusing on a single fruit or vegetable. This structure is especially nice for those who grow their own food or participate in CSAs—sometimes one really needs a month's worth of squash recipes! As in Urban Pantry, Della Chen's photographs accompany the text. Fresh Pantry comes across as a bit more of a traditional cookbook in terms of format, but the recipes are still accessible and easy for beginner chefs to execute. Together, Urban Pantry and Fresh Pantry are great resources for those who want to be more active in the kitchen while developing responsible habits related to obtaining locally-sourced produce.  Be bold—sign up for that CSA and read Pennington's books!