Books for Practical Gardeners, from Shady Acres to East Asian Cuisine
Posted in From the Library on May 8 2017, by Esther Jackson
Esther Jackson is the Public Services Librarian at NYBG's LuEsther T. Mertz Library where she manages Reference and Circulation services and oversees the Plant Information Office. She spends much of her time assisting researchers, providing instruction related to library resources, and collaborating with NYBG staff on various projects related to Garden initiatives and events.
---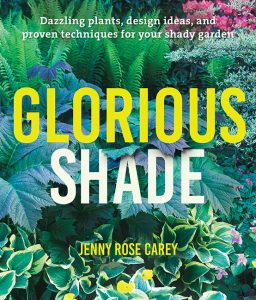 Glorious Shade from Jenny Rose Carey and Timber Press is a lovely meditation on shade gardening. Carey, the senior director at the Pennsylvania Horticultural Society's Meadowbrook Farm, is a talented writer and photographer, and she frames her book as a conversation about shade gardening. After an introduction detailing different kinds of shade, the narrative ambles through different topics related to shade gardening, culminating in an extensive and beautifully photographed plant palette. Chapter titles include "Shades of Shade: Observing Shifting Patterns in Your Garden," "The Gardener's Calendar: Seasonal Changes in the Shade Garden," "Down and Dirty: The Intertwined, Underground World of Soil and Roots," "Planting for Success: Techniques and Maintenance," "Designing in the Shadows: Bright Ideas of Shady Spaces," and "The Plant Palette: Choosing Plants for Your Shade Garden."
Carey touches on a variety of topics, and the more unique parts of her book relate to shade plants with specific seasonal interest, suggestions of appropriate under-plantings for specific trees, and, of course, her wonderful plant palette. In terms of practical advice about garden installation and design, the book is a bit too general for either a beginner or an expert. However, in all, Glorious Shade is an excellent reference for gardeners working with shaded areas who are looking for inspiration in terms of garden design and new plants to trial. For those who simply love beautiful garden books, Glorious Shade is also appropriate, as Carey's photographs are lovely and the book's visual design is excellent.

Switching gears, we turn to the edible side of practical gardening with a book I recently tackled that casts the spotlight on East Asian staples.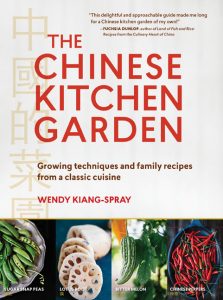 When I was an intern at Longwood Gardens, my best friend and I each had a student plot to grow vegetable gardens. We grew standard vegetable garden crops including tomatoes, beans, peas, and a variety of herbs. His additional quest, however, was to find Chinese vegetable seeds to grow.  He had a variety of success sourcing bitter melon, mustard, and lettuce seeds, supplementing his cooking with vegetables purchased at our favorite international market. I frequently found myself in his kitchen, watching him cook ingredients I had never used before, and never would have thought to try. That year was an education in the kitchen for me, and an introduction to using Chinese vegetables at home.
When I first opened The Chinese Kitchen Garden I felt like I picked up where I left off in my friend's kitchen. Wendy Kiang-Spray begins the book with the story of her family's cooking and gardening history, a distillation of her culinary heritage. A child of parents who left communist China, Kiang-Spray came to gardening after she became a parent. The Chinese Kitchen Garden touches on several garden design elements, including building a Chinese intensive garden bed, but really focuses on 38 Chinese vegetables and 25 accompanying recipes. Each plant includes common names in English, Mandarin, and Cantonese, as well as a Latin name. Kiang-Spray includes family stories, anecdotes, and dietary preferences along with the plant profiles, and sprinkles seasonal chore tips throughout the book. The text is full of useful information without being overwhelming. Gardeners new to growing Asian vegetables will be pleased at the amount of detail provided, including growth requirements and harvest times. For those picking up the book more for the recipes than for the gardening guidance, most if not all of the vegetables featured can be found at Chinese or international markets.
In case it's not already clear, I really loved The Chinese Kitchen Garden. The book is accessible for cooks who are first exploring Chinese vegetables, and it provides a refresher course for those who have dabbled in the past but need some guidance today. Beyond these practical applications, it offers the reader a connection to Chinese culture and history. The Chinese Kitchen Garden is an irresistible addition to the home library.