Posted in From the Library on June 1 2017, by Esther Jackson
Esther Jackson is the Public Services Librarian at NYBG's LuEsther T. Mertz Library where she manages Reference and Circulation services and oversees the Plant Information Office. She spends much of her time assisting researchers, providing instruction related to library resources, and collaborating with NYBG staff on various projects related to Garden initiatives and events.
---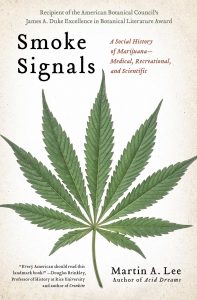 Medical marijuana is a hot topic in many parts of the United States. In New York, the use of medical marijuana has been approved for the treatment of symptoms of various diseases and conditions. Those wishing to learn more about medical marijuana should consider attending NYBG's Adult Education Medical Cannabis class which will likely be offered in the fall of this year.
While it is not legal to grow marijuana in New York, the books below offer insight into marijuana culture and history, as well as information about how marijuana is cultivated legally by those in states that permit such practices.
Smoke Signals: A Social History of Marijuana—Medical, Recreational and Scientific by Martin A. Lee chronicles the history of marijuana in America. Lee is not the first author to write a history of Cannabis sativa, but the social history focus of this book is especially interesting for readers who want to know the legal aspects of marijuana criminalization, regulation, and legislation in the United States. In addition, the author also explores contemporary medical research around using marijuana to treat conditions including cancer, heart disease, Alzheimer's, diabetes, and chronic pain. Lee, a journalist, is skilled at drawing the reader in and also does the more motivated researcher the service of providing an extensive bibliography for further reading.