On Medical Cannabis & Modern Histories
Posted in From the Library on June 1 2017, by Esther Jackson
Esther Jackson is the Public Services Librarian at NYBG's LuEsther T. Mertz Library where she manages Reference and Circulation services and oversees the Plant Information Office. She spends much of her time assisting researchers, providing instruction related to library resources, and collaborating with NYBG staff on various projects related to Garden initiatives and events.
---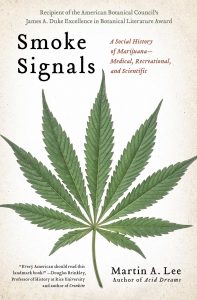 Medical marijuana is a hot topic in many parts of the United States. In New York, the use of medical marijuana has been approved for the treatment of symptoms of various diseases and conditions. Those wishing to learn more about medical marijuana should consider attending NYBG's Adult Education Medical Cannabis class which will likely be offered in the fall of this year.
While it is not legal to grow marijuana in New York, the books below offer insight into marijuana culture and history, as well as information about how marijuana is cultivated legally by those in states that permit such practices.
Smoke Signals: A Social History of Marijuana—Medical, Recreational and Scientific by Martin A. Lee chronicles the history of marijuana in America. Lee is not the first author to write a history of Cannabis sativa, but the social history focus of this book is especially interesting for readers who want to know the legal aspects of marijuana criminalization, regulation, and legislation in the United States. In addition, the author also explores contemporary medical research around using marijuana to treat conditions including cancer, heart disease, Alzheimer's, diabetes, and chronic pain. Lee, a journalist, is skilled at drawing the reader in and also does the more motivated researcher the service of providing an extensive bibliography for further reading.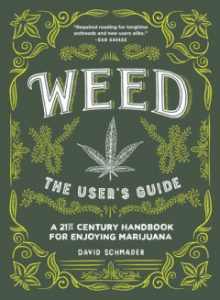 Weed: The User's Guide—A 21st Century Handbook for Enjoying Marijuana by David Schmader is a well-written and engaging little book about marijuana use. Schmader is a gifted, witty, and entertaining writer. This book is a guide for the modern era, and it is a wonderful cultural history of practices, including proper etiquette and a glossary of terms related to marijuana. The first chapter, "A Brief History of Weed," offers a quick glimpse (20 pages) into marijuana usage and regulation throughout history. The majority of the remainder of the text concerns itself with practical advice.
There isn't much in the way of botanical information in this book, other than Schmader's assertion that Cannabis indica and Cannabis sativa are different plants that offer different benefits. In fact, taxonomically, C. indica is considered a synonym of C. sativa, which Schmader acknowledges in his own way, writing "Despite their differences, sativa and indica are classified as the exact same plant (cannabis), in the same way that poodles and pit bulls are classified as the exact same (canine)."
In spite of the great writing and engaging content, since the book is lacking in citations and a bibliography, it can't really be read as a scientific resource on the topic of marijuana. However, as a cultural history, it is a winner.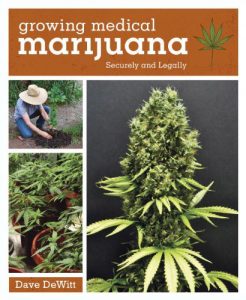 Finally, the book Growing Medical Marijuana Securely and Legally is another recent title by Dave DeWitt, the same author who brought readers The Field Guide to Peppers and other pepper gardening books.
DeWitt, a seasoned author on botanical and horticultural topics, begins his narrative with a brief botanical history of marijuana. DeWitt recognizes three species known as marijuana—Cannabis sativa, C. indica, and C. ruderalis, following the taxonomy of "Cannabis: An Example of Taxonomic Neglect" published in 1974 by Schultes, et. al.
What's wonderful about DeWitt's book is that it reads very nearly like any other gardening book, with the exception that the crop in question should only be grown legally, and even in legal settings may require additional security considerations. DeWitt covers topics such as security, indoor versus outdoor growing, recommended varieties, propagation and growing (including growing from seed and the growing season), harvest and storage, and cooking with marijuana. Of particular interest was DeWitt's eschewing of hydroponic systems based on his experience that growing small-yield crops is actually easier using traditional gardening methods.
DeWitt has written a very practical and user-friendly guide for both the legally permitted home grower and for those who are interested in learning more about the cultivation of marijuana in a strictly academic sense.