Posted in From the Library on June 16 2017, by Samantha D'Acunto
Samantha D'Acunto is the Reference Librarian at The New York Botanical Garden's LuEsther T. Mertz Library.
---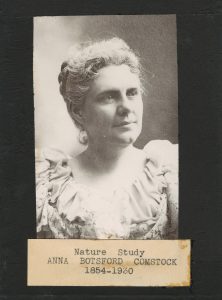 On September 1, 1854 in Cattaraugua County, New York, a girl by the name of Anna Botsford was born. It wouldn't be until many years later that her name would be recognized and respected. Anna was fascinated with nature ever since she was a child, and her interest in the subject followed her as she entered the newly established Cornell University in Ithaca, New York.
As she studied and attended lectures, Anna found herself particularly enthralled with a young entomology professor named John Henry Comstock. Encouraging Anna to cultivate her already strong understanding and interest in nature, John recruited her to assist him with his research. Anna was a skilled illustrator. Her ink and pen illustrations of insects were detailed and accurate, making them some of the most authoritative images for insect identification at the time. As the two worked closely and intimately on various projects, a spark of romance developed; by 1878 the two were married. Anna continued her studies at Cornell University and by 1885 she graduated with a Bachelor of Science Degree.