Cutting Back in Kyoto
Posted in From the Library on June 20 2017, by Esther Jackson
Esther Jackson is the Public Services Librarian at NYBG's LuEsther T. Mertz Library where she manages Reference and Circulation services and oversees the Plant Information Office. She spends much of her time assisting researchers, providing instruction related to library resources, and collaborating with NYBG staff on various projects related to Garden initiatives and events.
---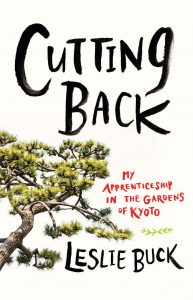 Cutting Back: My Apprenticeship in the Gardens of Kyoto by Leslie Buck is part memoir, part travelogue, and part garden design narrative. In 1999, Buck, then the owner of a pruning business in California, traveled to Japan in pursuit of an internship. Having worked with Japanese and Japanese-taught mentors previously, Buck was determined to gain additional training from Japanese craftspeople working in Japan's famed gardens. Through the help of contacts in Kyoto, Buck obtained an internship at Uetoh Zoen, one of the oldest and most respected landscape companies in Kyoto.
For the most part, it was interesting to read about Buck's experience working on a pruning-only garden crew, as well as to learn about her attempts to understand and navigate Japanese culture as an American woman. Buck wrote that her "Bossman" was constantly challenging her with progressively more difficult tasks, and for that reason she never fully settled in to her internship or hit her stride. By the end of the book, Buck seemed to have learned about Japanese work ethic, culture, and gardening practices in spite of forgetting all the Japanese language she had learned (as she claimed).

Thematically, Cutting Back was enjoyable, although Buck's narrative did become grating at times. For example, when recalling many of the projects she worked on, Buck often flavored her prose with complaints about the task or negative comments about her own abilities. It's evident that Buck was suffering from imposter syndrome at many points during her internship, which is understandable, owing to her relative unfamiliarity with Japanese language and work culture. Nevertheless, the thread of negativity that stretches through the story became tedious at times.
Read Cutting Back for insight into Japanese gardening culture, for descriptions of naturalistic Japanese gardens, or if you enjoy travel memoirs somewhat in the vein of Eat, Pray, Love or Wild.